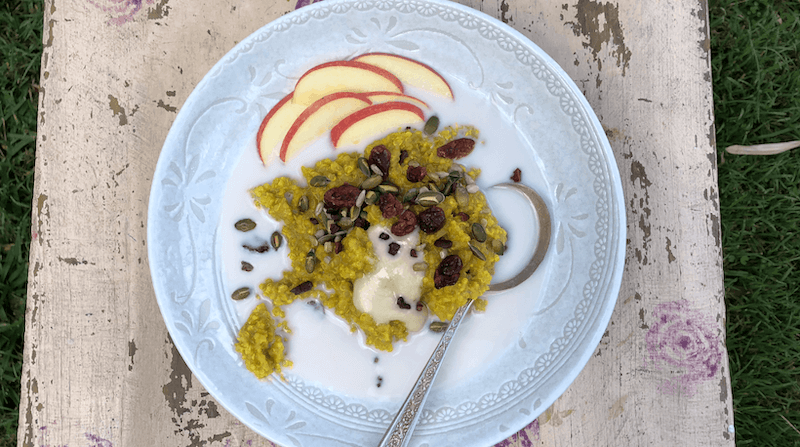 Spiced Millet & Quinoa Porridge
This weeks recipe of the week is inspired by the 'Green Kitchen At Home' cookbook by David Frenkiel and Luise Vindahl. A warming winter porridge recipe using millet, quinoa and spices. Super tasty and high in protein to get the day started.
Serving Size: 4
Ingredients:
1/2 cup uncooked organic hulled millet, rinsed
1/2 cup organic white quinoa, rinsed
1 pink lady apple, cored and diced
1 cup of milk (of your choice – we recommend Natures Harvest Unsweetened Almond)
1/2 teaspoon organic cinnamon powder
1/4 teaspoon cardamon powder
1/4 teaspoon ground ginger
1/2 teaspoon organic turmeric powder
pinch of Himalayan salt
1 tablespoon honey, rice malt or maple syrup (your preferred sweetener)
To serve:
Sliced pink lady apple
1 tablespoon of tahini (or your favourite nut butter)
Sprinkle of raisins
sprinkle of organic pepitas and organic sunflower seeds
sprinkle of organic cacao nibs
Method:
Place the apple in a medium sized saucepan with the millet, quinoa, milk, 3 cups of water, spices and salt and bring to the boil.
Simmer for 15 to 20 minutes, stirring occasionally until the millet is tender and the quinoa has grown tails.
Once cooked, remove from heat, stir through the honey and serve whilst hot into bowls.
Top with apple slices, tahini, raisins, pepitas, sunflower seeds and cacao nibs and a pouring of extra milk if needed. Enjoy.
Gluten Free | Dairy Free | Refined Sugar Free 
About Author