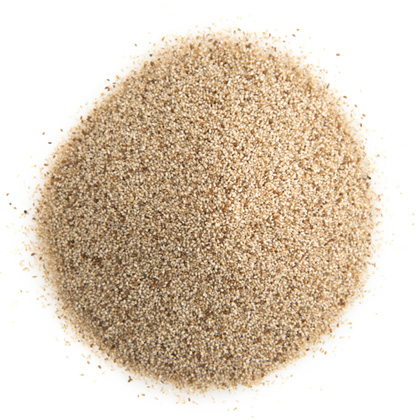 Teff: Tiny Seed, Big Nutrition
Teff is a grass seed native to the North East African countries of Ethiopia and Eritrea. Also known as 'love grass', it has been traditionally used there as a staple food for thousands of years. Teff has an impressive nutritional profile, is gluten free and is becoming increasingly popular in western countries in all types of cooking both savoury and sweet.
The Teff seed has a mild, nutty like flavour and comes in a range of colours from light or reddish brown, to  purple, white and dark brown. It is packed full of dietary fibre, iron and calcium with the protein in Teff containing all 8 essential amino acids. The seed is also rich in the minerals magnesium, phosphorus, copper, zinc as well as containing resistance starch; a type of fibre that feeds healthy bowel bacteria. This fibre is beneficial for our immune system, whilst supporting balanced blood sugar levels, moods and digestion.
For centuries in Ethiopia Teff has most commonly been ground to a flour and used to make Injera, a sourdough-risen flatbread.  This spongy sour bread is thin as a pancake, as large as a dinner plate and is traditionally eaten with stew or cooked vegetables that are served on the centre of the bread.
Today, Teff has spread across the globe and is now grown in Australia and India.  The seed and flour are highly versatile and used to make porridge, biscuits, bread, chilli beans, burgers, soups, brownies and much more. The flour can also be used as a thickener in gravies, sauces and puddings.
Enjoy your week in the kitchen,
Jesabe Warner
Naturopath, Affordable Wholefoods
See on the blog our delicious Toasted Teff Porridge w/ Cinnamon and Pecans Or try our recipe for Teff Pancakes with Raspberries and Coconut Yoghurt.
Save
Save
Save
Save
Save
Save
About Author