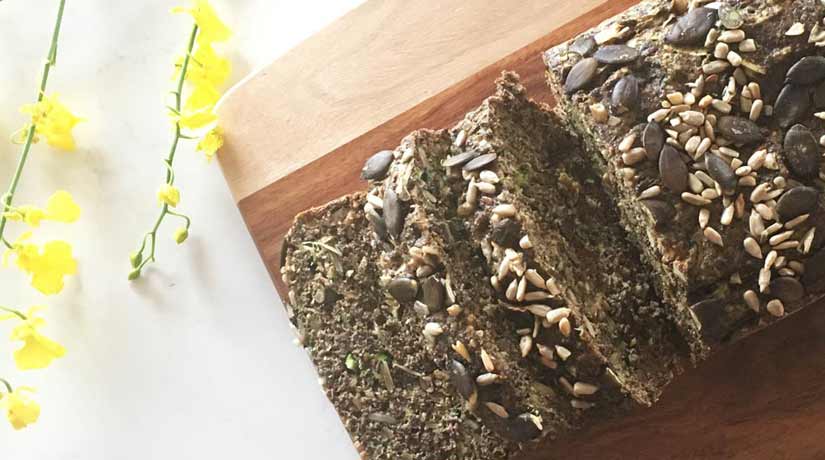 Activated Seed & Zucchini Loaf
We are pleased to share this recipe with you from baker & food educator Sarah Follent of Baked Livingness and The Happiness Hub.
Baked Livingness is a food baking service newly established in Brisbane that Sarah describes as being about providing to homes and business's 'honest food that is baked and served with love'.  Sarah's second business, 'The Happiness Hub' is a collaborative community that hosts an assortment of creative, supportive and nurturing events, networks and workshops across Brisbane and surrounds.
Sarah describes herself as a delightful, colourful, warm and compassionate 'creative baker' and this has certainly been our experience in working with her.
Over to Sarah…..
My activated seed loaf is a great bread alternative & includes one of my favourite vegetables…zucchini!
Using activated seeds and almond meal in my recipes I have found that I eat less but stay fuller for longer. Another advantage I have discovered using activated whole foods is that they are much more gentle on my digestion. Enjoy experimenting with this recipe by trying new combinations for example replacing the zucchini with carrot or replacing the almond meal with hazelnut meal. If you are vegan simply replace the eggs with 2 tablespoons of psyllium husk.
My favourite serving suggestions would have to be with a beetroot & cayenne pepper spread (recipe below) or macadamia nut spread with blueberries for something sweet.
Please enjoy & feel free to share your images & inspiration you discover while making this recipe.
Activated Seed & Zucchini Loaf 
Ingredients:
1 cup linseeds freshly grounded
½ cup activated almond meal
1/3 cup arrowroot (tapioca) flour
½ cup activated sunflower seeds + more for toppings
½ cup activated pumpkin seeds + more for toppings
1 teaspoon of bi-carb soda
2 teaspoons of mixed herbs
4 free range eggs
1/3 cup olive oil
1/3 cup of filtered water
1 zucchini grated
Method:
In a food processor blend eggs, water, olive oil and bi-carb soda until well combined.
Gently add in ground linseeds, almond meal, arrowroot flour, seeds and herbs.
Pulse together until combined. Some seeds should still be chunky.
Take out food processor blade and gentle mix grated zucchini through.
Place in a lined loaf tin and add additional seed as toppings.
Cover with foil and place in a 180 degree oven for an hour, or until cooked.
Check and remove foil at 45mins.
Roasted Beet & Cayenne Spread
Ingredients:
5 Roasted beetroots
2 teaspoons of cayenne pepper– less or more depending on what you like
salt and pepper to taste
4 tablespoons of olive oil
2 tablespoons of tahini
juice of 1 lemon
1 tin of cannellini beans
Method:
Roast beetroots until cooked well in 2 tablespoons of olive oil and cayenne pepper. Allow beetroot to cool.
In a food processor blend beetroot and all other ingredients until well combined.
Add to your activated seed and zucchini loaf or use as a dip.
Enjoy.
Gluten Free | Dairy Free | Vegetarian | Vegan | Refined Sugar Free
To see more from Sarah on Instagram visit her Baked Livingness page here
About Author