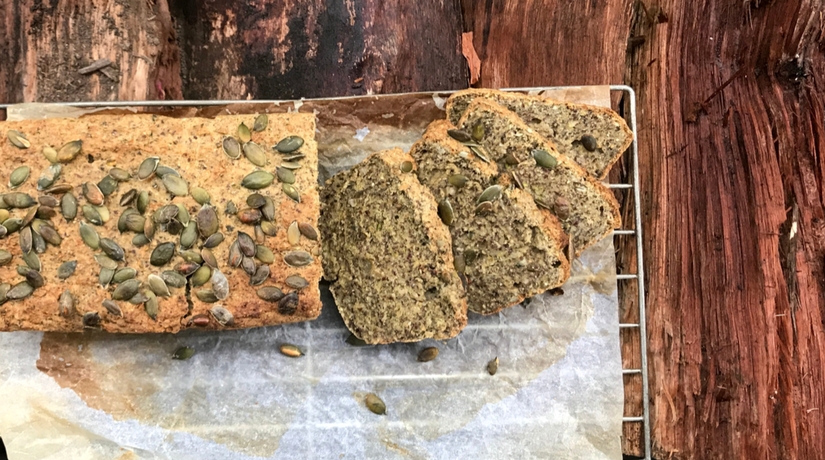 Gluten & Dairy Free Hidden Seed Loaf
The first recipe from site contributor and Naturopath Holly Layland. Holly practices out of a clinic in Evans Head that offers Naturopathy and Massage. She also loves cooking and is passionate about sharing her recipes with others.
Here we have a gluten and dairy free hidden seed bread which she says is a hit with the children as well. Enjoy!
Ingredients:
1 zucchini
2 heaped tablespoons sunflower seeds
2 heaped tablespoons pepitas
2 tablespoons chia seeds, soaked in 1/2 cup water for 10 mins
1 cup puréed apple (dice & simmer until soft, then purée)
1 tablespoon apple cider vinegar
2 tablespoons of coconut or olive oil
4 eggs
1 teaspoon gluten free baking powder
1/2 cup each of linseed meal, brown rice flour, tapioca flour, buckwheat flour and sorghum flour
Method:
Line loaf tin with baking paper and preheat oven to 160 degrees.
Blend zucchini, sunflower seeds and pepitas in a food processor until broken down.
Add all the other ingredients and blend until smooth (it will seem runny for a bread mix).
Pour into lined loaf tin and smooth out. Wet hands and flick the water over the top of the loaf. Optional: sprinkle over seeds of choice.
Place in oven and cook for 35-40 mins or until golden on top. Delicious warm with butter or use in place of normal bread.
Inspiration:
Optional variation: for a seeded loaf, you can skip blending the seeds through the loaf and stir them through prior to pouring into loaf tin.
To speed the process up, I have now made a big mix of the four flours up (4 cups of each which will make 8 loaves). I can then use 2 &1/2 cups of this pre-mix per loaf.
Gluten Free | Dairy Free | Sugar Free | Vegetarian
Save
Save
Save
Save
Save
Save
Save
Save
Save
About Author