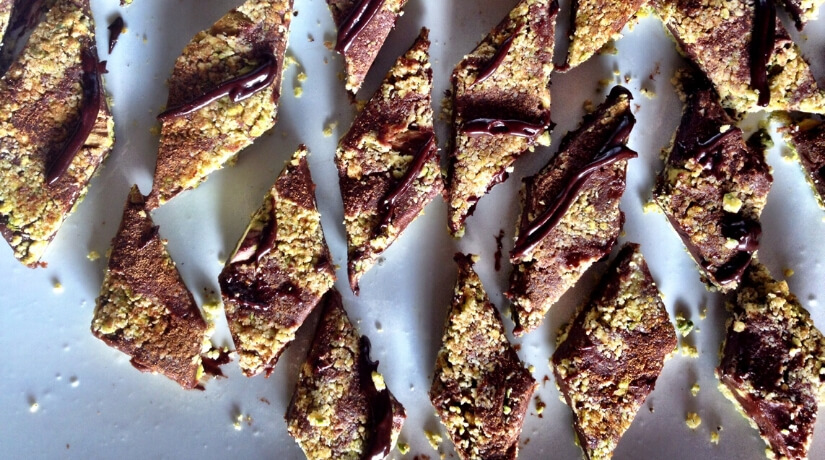 Raw Cacao Baklava Fudge
This delicious recipe has been contributed by Abigail O'Neil from Model Chocolate… a decadent Raw Cacao Baklava Fudge with a pistachio crumble base. Enjoy.
Ingredients:
Pistachio Crumble Base and Topping
1 1/4 cups raw pistachios
1 1/4 cups desiccated coconut
1 teaspoon cinnamon powder
3 drops pure essential oil of lemon or 1 – 2 teaspoons of lemon zest
1 tablespoon lemon juice
2 tablespoons raw organic coconut oil
1 tablespoon coconut sugar
Method:
Whizz altogether in your food processor until the mixture is fine but still has some texture.
Press two thirds of the mixture into the base of a baking paper lined dish approx 27 x 20cm to create a firm base.
Place the base in the fridge/freezer to harden while you create the filling.
Set aside the remaining third of the pistachio crumble mixture in a seperate bowl so you can continue to use the food processor.
Cacao Medjool Caramel Fudge Filling 
1 1/2 cups pitted Medjool dates
1/2 teaspoon vanilla powder
4 tablespoons raw organic coconut oil
1/2 – 3/4 teaspoons sea salt
2 tablespoons raw honey or rice malt/maple syrup
2-3 tablespoons raw cacao powder
1/4 cup raw walnuts or extra whole raw pistachios (optional) added at the end for texture
Method:
Whizz all ingredients together in your food processor until thick, smooth and velvety.
Spread filling carefully over chilled base, sprinkle with whole pistachios or walnuts (if using) and top with remaining third pistachio crumble mixture.
Press down with the back of a clean spoon and set Baklava in the fridge or freezer to firm completely.
Decorate with some melted dark chocolate (also optional)
Cut into serving sizes and keep refrigerated when not eating.
Gluten Free | Dairy Free 
About Author