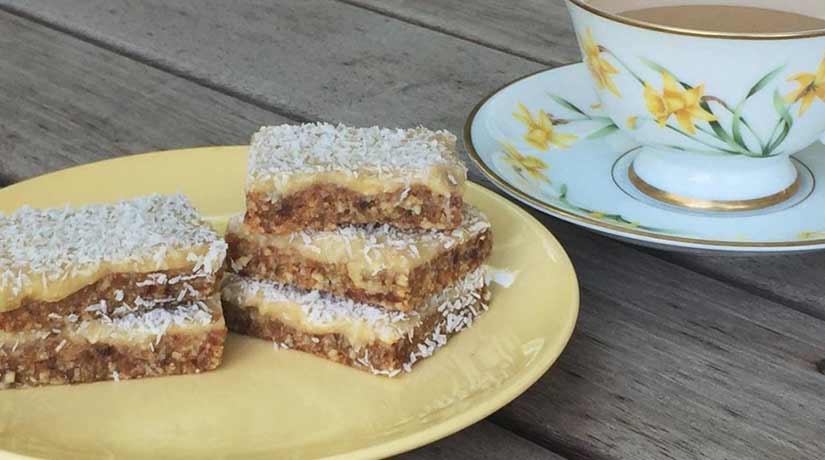 Raw Lemon & Coconut Slice (GF/DF)
AFFORDABLE WHOLEFOODS – RECIPE OF THE WEEK
A delicious lemony raw slice inspired by Loving Earth. This one was made in house by Kym who said it reminded her of her grandmothers lemon slice as a child….only without the refined sugar. The raw lemon and coconut slice is sweetened with dates and maple syrup.
Preparation time: 10 minutes      Setting time: 30 minutes
Serving Size: Makes roughly 18-20 serves
Ingredients:
Base
1 cup of organic raw cashews
1 cup fine organic desiccated coconut
1 cup organic Medjool dates
pinch of salt
1 tablespoon lemon juice
Topping
1/2 cup organic raw cashews
1/2 cup coconut oil, melted
1/4 cup maple syrup
1 1/2 tablespoons lemon rind
2 tablespoons lemon juice
1/2 teaspoon organic vanilla essence
Extras
1-2 tablespoons organic desiccated coconut
1/2 tablespoon lemon rind
Method:
Line a medium sized slice tin with baking paper.
Add all your base ingredients to a food processor and pulse until well combined. Add a teaspoon of water at a time if needed until the mixture starts to stick together.
Transfer the mixture to the lined tin and press down evenly to form the base. Place in the freezer to set (about 10 minutes).
Place all the topping ingredients in the food processor and blend/pulse until smooth and creamy.
Remove the tin from the freezer and pour the topping on top. Then sprinkle with the extra desiccated coconut and lemon rind before storing in the fridge.
Best eaten after the slice has set.
Gluten Free | Dairy Free | Refined Sugar Free | Raw | Vegan
About Author