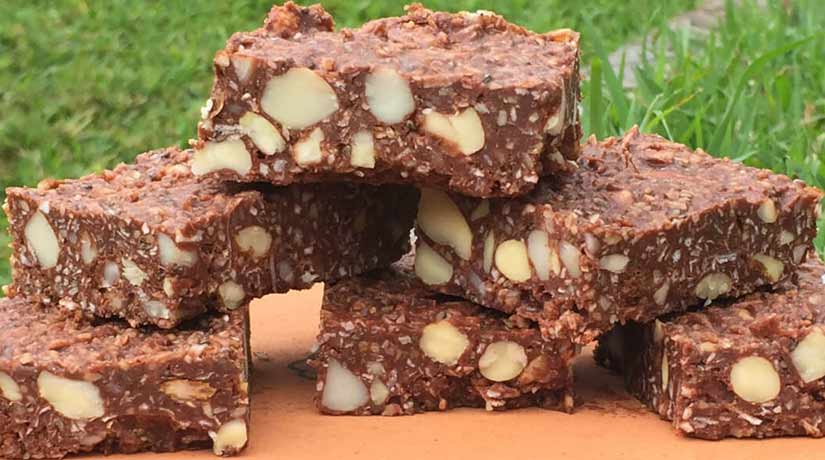 Raw Macadamia & Cacao Paleo Slice
Here's a little inspiration from the AW Kitchen for all our vegan, paleo & raw food lovers. A delicious raw slice using fresh macadamias, coconut and cacao. They also have the added bonus of chia seeds and psyllium husks making them packed full of nutrition and fibre.
Quick and easy to prepare. Here's how we made it.
Ingredients:
2 cups of raw macadamia nuts
1 cup organic shredded coconut
1/2 cup organic cacao powder
2 tablespoons chia seeds
1 tablespoon psyllium husks
1/3 cup almond butter
1/2 cup coconut oil
1 tablespoon rice malt or maple syrup (your preference)
1 teaspoon cacao butter (optional)
Method:
Blend the macadamias in your food processor until finely chopped (small pieces are good).
Place the macadamias in a bowl and add in the shredded coconut, cacao powder, chia and psyllium, mixing well.
Melt the coconut oil and sweetener in a saucepan until liquid (do not boil), removing from heat and stirring in the the cacao butter if using.
Add the coconut oil mixture along with the almond butter to your dry ingredients and mix well. (add a little extra chia or psyllium if it appears too wet or alternatively a little more melted coconut oil if too dry – but the mix should be perfect here).
Line a small baking pan with baking paper (about 21 x 21cm) and press down the mix smoothing out with the back of a spoon.
Pop in the fridge for 20 minutes to set.
Once set, remove from the tray and slice into rectangle shapes to store in containers kept refrigerated or in the freezer (either way works well).
Inspiration:
You can use whatever nut you like in this recipe. Almonds or walnuts would also work just as well.
Gluten Free | Dairy Free | Raw | Paleo | Vegan | Refined Sugar Free
Save
About Author