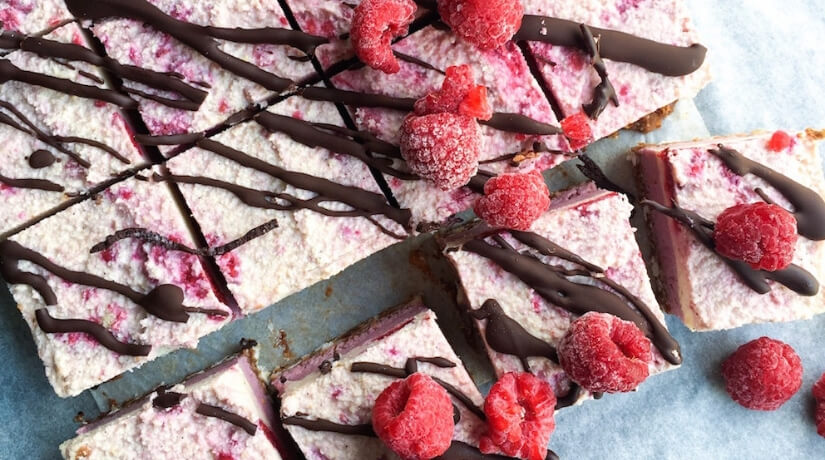 Raw Vegan Raspberry Cheesecake
This weeks recipe of the week comes from one of our long time recipe contributors Tristen Van Der Kley.  Tris has some beautiful recipes on her website also and this is one of our faves…the raw vegan raspberry cheesecake. As with many raw slice recipes there's a little in the processing, but totally worth the end result. A great one to enjoy in summer.
Makes: 20 small slices
Prep time: 30 minutes plus overnight soaking
Cooking time: Overnight setting required
Ingredients:
Base
1 cup Medjool dates, pitted
1 cup raw hulled buckwheat
1/2 cup shredded coconut
1 tablespoon raw cacao powder
1-2 tablespoons of water
Filling
2 1/2 cups of raw cashews, soaked overnight
1 1/4 cups frozen raspberries
1/2 cup coconut water
1/3 cup maple syrup
2 tablespoons of coconut oil
The seeds of one vanilla bean or 1/2 teaspoon vanilla powder or essence.
Juice of 1 lemon
Chocolate Topping
50g of dark chocolate buttons (or any dark cooking chocolate) plus extra frozen raspberries to decorate.
Method:
Soak the cashews overnight (in warm water) and then drain, setting aside for later.
Start with the base by soaking the dates in hot water for 5 minutes (drain off the water when done). Line a baking tin or tray (or round cake tin if you want to make a traditional cheesecake) with baking paper.
Blend all the base ingredients in a food processor until well combined. Press into the baking tin/tray with a spoon or spatula until smooth then pop into the freezer whilst making the filling.
Blend the cashews, coconut water, maple syrup, coconut oil, vanilla and lemon juice in the food processor until smooth (this may take a few minutes).
Spoon out half of that mixture into a bowl. Add 1/2 cup frozen raspberries to the bowl and fold through. Place in the refrigerator for later use as this will form a layer of the cheesecake.
Add the rest of the frozen raspberries (3/4 cup) to the remaining mixture in the food processor and blend until smooth.
Pour the blended raspberry (pink) mixture on top of the buckwheat base and set in the freezer for 2 hours.
Once firm, pour the remaining mixture (white with raspberries folded through) on top of the pink layer and freeze again for 2 hours until set.
Melt the dark chocolate buttons in a bowl over a simmering saucepan until just melted (do this on low heat being careful not to burn the chocolate.) Pour the chocolate over the top to decorate the cheesecake along with some extra frozen raspberries to set.
Remove the cheesecake from the baking tin and let it defrost for about 30 minutes in the fridge before serving. Alternatively, you can cut into mini bites and keep them frozen until you are ready to eat them. Enjoy.
Gluten Free | Dairy Free | Refined Sugar Free
About Author