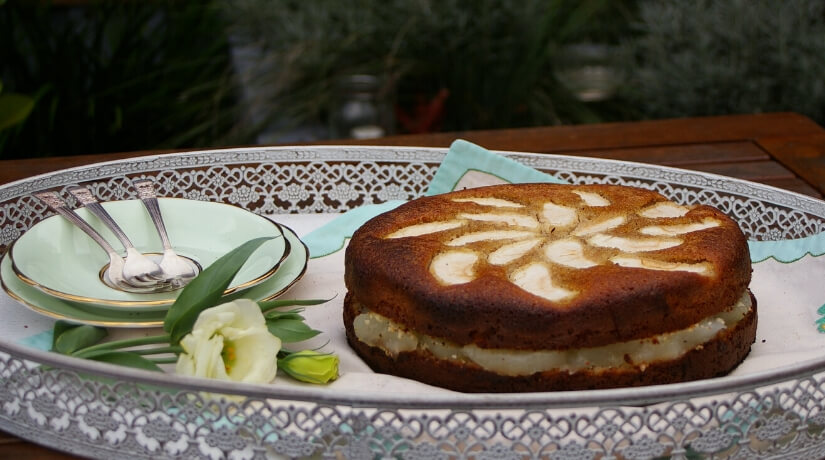 Apple Tea Cake
This weeks Recipe of the Week is another beautiful gluten and dairy free cake from local cook and artist Alyssia Fraser. This one is super moist, simple to make and the apple filling is delicious. Enjoy!
Ingredients:
Cake
300g almond meal
1 1/2 teaspoons baking powder
2 teaspoons cinnamon powder
75ml rice bran oil
1/2 cup rice syrup
4 eggs, beaten
Filling
5 apples
1 teaspoon glutinous rice flour
water
Decoration
Slices of apple may be put on top of the cake before baking.
Method:
Line a round cake tin with baking paper.
For the Filling
Peel and cut the apples into slices, and lightly cook in a small amount of water until soft.
Add the glutinous rice flour to a small amount of water, mix thoroughly and add to the apple mix while it is boiling.
Stir the apples constantly until thickened (add more water if required to thicken).
Put aside to cool.
For the Cake
Mix the almond meal, baking powder and cinnamon together.
Add the rice bran oil and then the rice syrup. Add the beaten eggs.
Mix until all ingredients are well combined and then transfer to a cake tin.
Bake in a moderate oven (180'C) until the cake tester comes out clean. The time depends on your oven type – check after 20 minutes.
When the cake is cool, slice it in half horizontally, lift the top half off and spread the apple mix on the remaining cake.
Put the top back on and serve with a light dusting of cinnamon. Enjoy.
Gluten Free | Dairy Free | Refined Sugar Free
To see more from Alyssia visit her website here
About Author