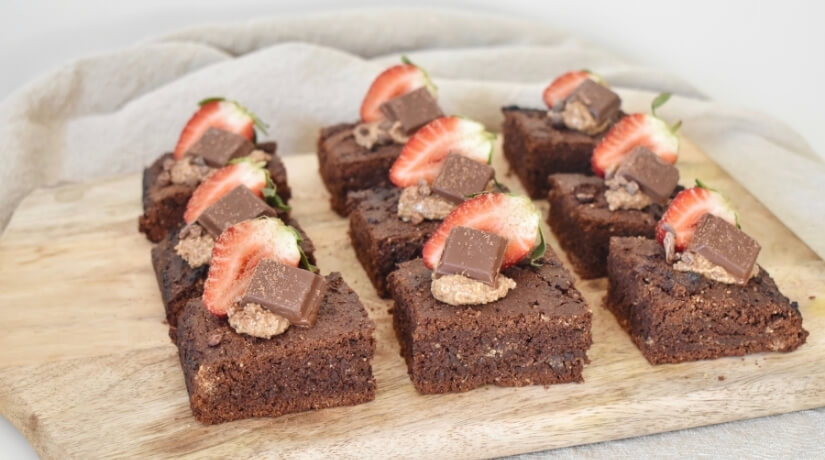 Chocolate and Almond Butter Brownies
This weeks recipe has been shared with us by the delightful Meg Phillips… as many of you may know Meg is a bit of a connoisseur when it comes to sweet vegan treats and this time she has made for us a chocolate brownie featuring almond butter, coconut sugar and raw cacao. Enjoy.
Makes: 9 brownies
Ingredients:
1/2 cup almond milk
1/2 cup nuttlex, melted (you can use butter if you prefer)
1 cup of coconut sugar
1 cup of wholemeal stoneground plain flour
1/2 cup raw cacao powder
1/2 cup blanched almond meal
1 tsp baking powder
pinch of vanilla powder (or teaspoon of vanilla essence)
pinch of pink Himalayan salt
2 tablespoons almond butter
Method:
Preheat your oven to 180 degrees celcius and line a square baking tin with baking paper.
Sift all the dry ingredients into a large bowl and mix to combine well.
In a small bowl melt the nuttlex and then add the almond milk and mix well to combine.
Pour this wet mixture into the dry mixture, and mix together now until just combined.
Add the almond butter and mix briefly some more.
Pour the mixture into a prepared tin and bake in the oven for 25 minutes.
Remove from the oven and allow to cool slightly in the tin for around 10 minutes before cutting. The brownies should be crispy on the top and edges and soft in the centre.
Optionally top with your favourite chocolate, more almond butter and fresh berries. Best eaten warm!
Dairy Free | Vegan
To see more from Meg visit her instagram page here 
About Author