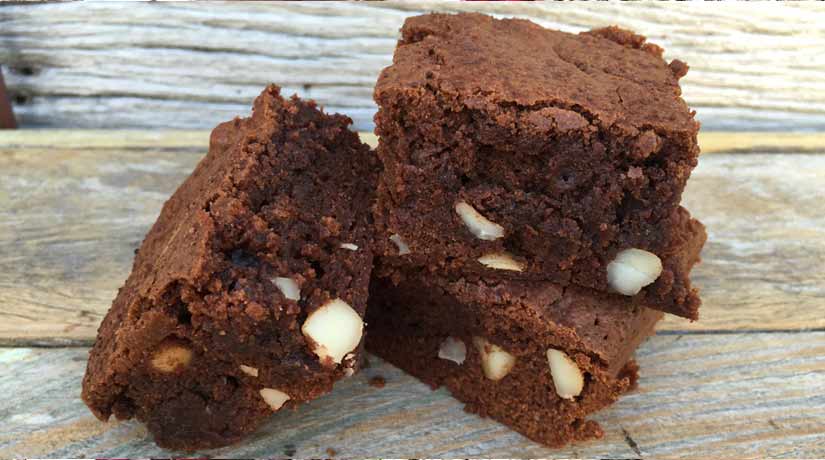 Chocolate Macadamia Brownies
Best brownie recipe ever – not kidding! The macadamia nuts and quality dark chocolate are what make this brownie so tasty.
If you're a chocolate fan, you will love this recipe.
Ingredients:
125g butter
100g quality Dark Chocolate (we used Rapunzel Dark Chocolate sold in store but you could alternatively use our delicious Vegan Dark Chocolate Buttons)
¼ cup Dutch cocoa
1 cup raw sugar
2 large eggs
¼ teaspoon Himalayan salt
1 teaspoon vanilla essence
1 cup unbleached plain flour
1 teaspoon of Baking powder
½ cup chopped macadamia nuts
Method:
Line a baking tin with baking paper and heat your oven to 180`C.
Melt the dark chocolate with the butter in a medium size saucepan then remove from heat.
Add the cocoa, raw sugar, eggs, salt and vanilla and whisk until well combined.
Sift in the flour and baking powder (old school baking), then add the macadamia nuts and stir until even.
Pour the mixture into your baking tin and bake in the oven for 30 minutes (or until firm in the centre). Allow to cool before serving.
Inspiration:
To mix it up try substituting the macadamia nuts for walnuts, fresh raspberries or blueberries.
Enjoy.
Save
Save
Shop Recipe Ingredients
[products ids="31269,18138,18034,17589″ columns="4″]
About Author