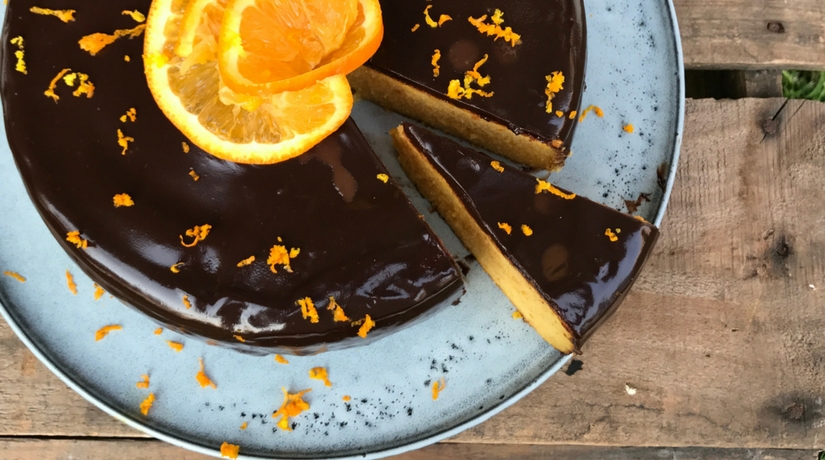 Chocolate Orange Jaffa Cake
This weeks recipe of the week has been inspired by one of our in store customers who loved it so much she felt it needed to be shared and enjoyed by all (we love that by the way). It's absolutely delicious, super easy to make and with so few ingredients. Enjoy.
Ingredients:
2 navel oranges
6 eggs
2 1/2 cups of blanched almond meal
1 cup of organic raw sugar
Ingredients for Ganache:
200g Vegan Dark Chocolate Buttons
1/2 cup pure cream (substitute with coconut cream for a dairy free option)
Method:
Bring a saucepan of water to the boil and then simmer the oranges whole for 2 hours. Allow to cool.
Preheat the oven to 190'C and grease and line your cake tin.
Place the oranges in a food processor and mix until smooth.
Add the remaining ingredients and mix until combined.
Pour into a cake tin and cook for an hour and ten minutes –  it may need a bit longer. (Note: the cake should be quite moist but pulling away from the edges of the tin and a skewer should come out fairly clean).
Allow the cake to cool a little before removing from the tin to cool completely.
Making the Ganache:
Melt the chocolate and cream in a bowl over a saucepan of simmering water until melted, smooth and glossy. You may need to add a little more cream to get the consistency right.
Allow to cool a bit and thicken, then smear over the cake (don't do this until the cake is cool) and you are ready to serve. Enjoy!
Gluten Free | Vegetarian
If you like this cake you may also like to try our Gluten Free Fig, Pear & Goji Berry Cake
About Author