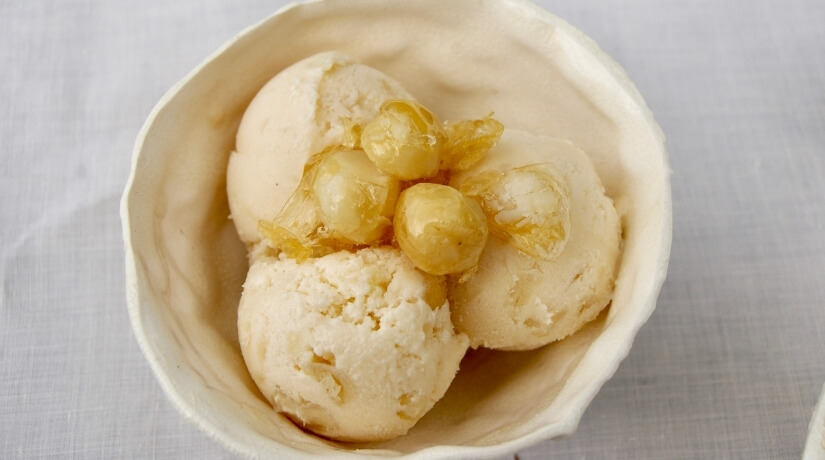 Dairy Free Macadamia Ice-Cream
This weeks Recipe of the Week comes from Alyssia Fraser. Alyssia is a bit of a connoisseur when it comes to making ice-cream and has her own local Ice-Cream label Spoon & Table here in the northern rivers. She was happy to share with us her recipe for Macadamia Ice-cream which you can also find in her recipe book 'The Food At My Table' . This ice-cream is super delicious and fun to make. Enjoy!
Ingredients:
3 cups almond milk
1/2 cup rice syrup
3 free range eggs
1/2 teaspoon vanilla extract
1 tablespoon glutinous rice flour mixed into a small amount of water (you can purchase this from any Asian Supermarket)
1/2 cup macadamia butter
1/3 cup roughly chopped raw macadamias
Method:
Beat the eggs and glutinous rice flour mix.
Add the almond milk, rice syrup and vanilla extract to a saucepan and bring to a simmer, mixing so all ingredients are well combined. Remove from heat.
Slowly add the milk mixture to the beaten egg mixture, one soup ladle at a time, whisking continually until half the milk mixture has been added. Then pour the rest in.
Transfer back to the saucepan, and then whisk until thickened over a medium heat.
Remove from the heat and keep whisking as the mixture cools to prevent lumps from forming.
Stir in the macadamia butter.
Pour the mixture into a container and put in the freezer until partially frozen.
Remove from the freezer and break up the mixture with a knife. Beat with a high powered stick blender then return to the freezer.
Repeat this process once or twice more, depending on how well the mixture beats up to an ice-cream consistency.
When beaten for the last time, fold in the chopped macadamia nuts and re-freeze to set. Enjoy.
Note: Glutinous rice flour is not the same as regular white or brown rice flours and does NOT contain gluten. It is made from sticky rice, hence the name. 
Gluten Free | Dairy Free | Refined Sugar Free
To see more from Alyssia you can visit her site here
About Author