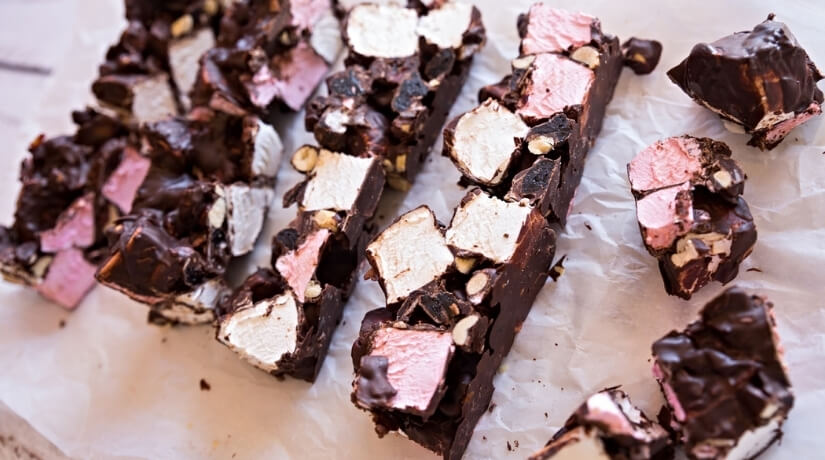 Easy Rocky Road
This week's recipe has been shared by Janine Whitling of
Janine's Gluten-Free Kitchen
. The most delicious and oh-so-easy Rocky Road recipe and a perfect family treat to make over the Easter break.
Prep time: 15 minutes
Serves: Lots!
Ingredients
1 cup salt-free Roasted Peanuts
1/2 cup Dried Organic Tart Cherries
1/2 cup Dried Cranberries
1 cup Shredded Coconut
800g gluten-free Marshmallows, (such as Eskal Marshmallows)
800g dairy-free Dark Chocolate
Method
Line a large tray with baking (parchment) paper.
Place chocolate in a microwave-proof bowl. Melt in the microwave on very low heat for 5 minutes or until mostly melted. Stir well until all the buttons are melted and the mix is smooth. Be careful not to overheat in the microwave as the chocolate will burn in the centre if the heat is too high or if you heat it for too long. Set aside.
Add fruit, peanuts, coconut, and marshmallows to a clean large mixing bowl and roughly mix.
Add the melted chocolate and mix with a gloved hand, (we recommend watching the video to see how we make it).
Pour all of the mix onto the tray and pat down so the mixture is dispersed evenly.
Refrigerate for ½ hour before cutting.
Cut into small blocks and store in an airtight container. Refrigerate if you live in a warm climate but like all chocolate, you can store it in the pantry or the refrigerator.
Variations
Use carob or keto chocolate
Replace peanuts with macadamias or slivered almonds
Replace cherries and cranberries with dried pineapple and pawpaw
Gluten-Free  |  Dairy-Free  |  Refined Sugar-Free 
About Author