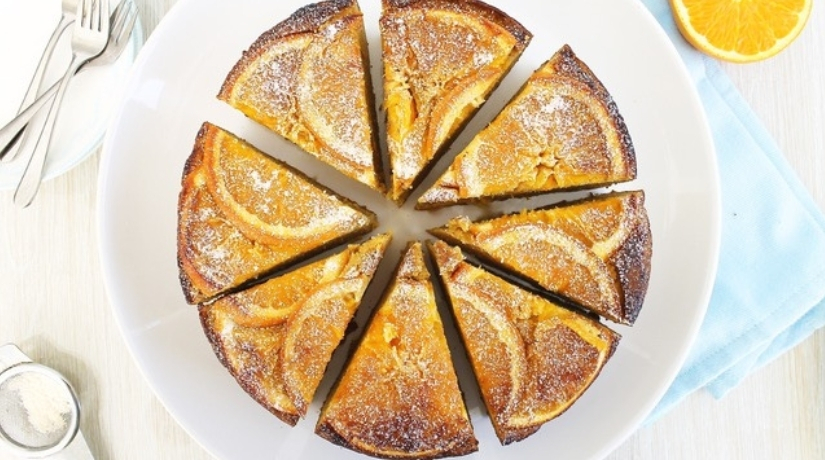 Flourless Orange and Almond Cake
This week's recipe is a delicious flourless Orange and Almond Cake from Casey-Lee Lyons of
Live, Love, Nourish
. A moist and naturally sweetened flourless cake celebrating whole-food ingredients including whole orange, almond meal, and dates, to nourish your body from the inside out. Simple and delicious. Enjoy!
Ingredients
3 large sweet oranges
4 large free-range eggs
8 large (150g) Medjool dates, pitted & chopped*
3 cups (330g) almond meal
2 tsp (5g) baking powder
1 tsp vanilla bean powder (or good quality vanilla extract)
Instructions
Pre-heat fan-forced oven to 175C.

Place 2 oranges (unpeeled) in a saucepan and cover with cold water. Bring to the boil then simmer covered for 45 minutes. (Make sure oranges remain covered with water). Drain and cool.

Meanwhile, thinly slice the remaining orange. Cover the bottom of a lined large round cake tin with the orange slices. Set aside.

Cut cooled boiled oranges into quarters (discard any seeds).

Place boiled oranges, eggs, dates, baking powder, and vanilla powder into a high powered blender and puree until smooth.

In a medium bowl mix together orange puree with almond meal.

Pour batter on top of orange slices in your cake tin and bake for 45 mins to 1 hour, or until golden on top (depending on your oven). Check using a skewer. If still wet on the inside continue baking and check every 15 minutes.

Allow to slightly cool for 15 minutes then turn out so the orange slices at the bottom become the top of your cake.
Dairy-Free  |  Gluten-Free  |  Grain-Free  |  Preservative Free  |  Refined Sugar-Free 
About Author