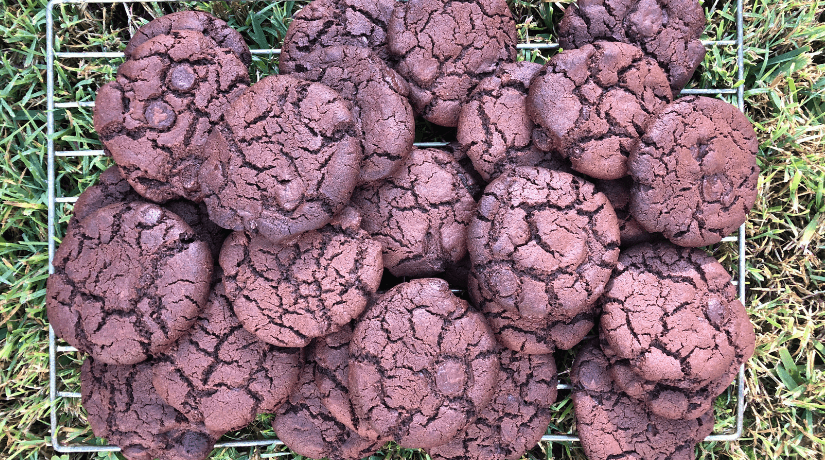 Gluten-free Double Chocolate Cookies
This week's recipe of the week has been shared by store owner Denise. Deliciously chewy Gluten-free Double Chocolate Cookies. Quick and easy to make and scrumptious to eat!
Makes: 35
Ingredients:
125g gluten-free dark chocolate buttons
100g butter, chopped
2 cups gluten-free flour
3/4 cup brown sugar
2/3 cup caster sugar
1/4 cup cocoa powder
1 tsp bi-carb soda
2 eggs, lightly beaten
1 tsp vanilla extract
150g extra dark chocolate buttons
Method:
Preheat oven to 160C or 140C fan-forced. Line 3 large baking trays with baking paper.
Stir the 125g chocolate buttons and butter in a small saucepan over low heat until smooth. Set aside to cool slightly.
Whisk the flour, combine sugar, cocoa powder, and bicarb soda in a large bowl until well combined. Stir in the egg and vanilla, then the chocolate mixture until combined. Stir in the extra 150g chocolate buttons.
Roll 1-tbsp portions of cookie mixture into balls.
Place about 5 cm apart on prepared trays and press to flatten to 4cm wide.
Bake for 15 mins.
Set aside on trays to cool.
Note: For a spicy addition add 1/4 chopped naked uncrystallised ginger with the chocolate chips.
Enjoy!
About Author