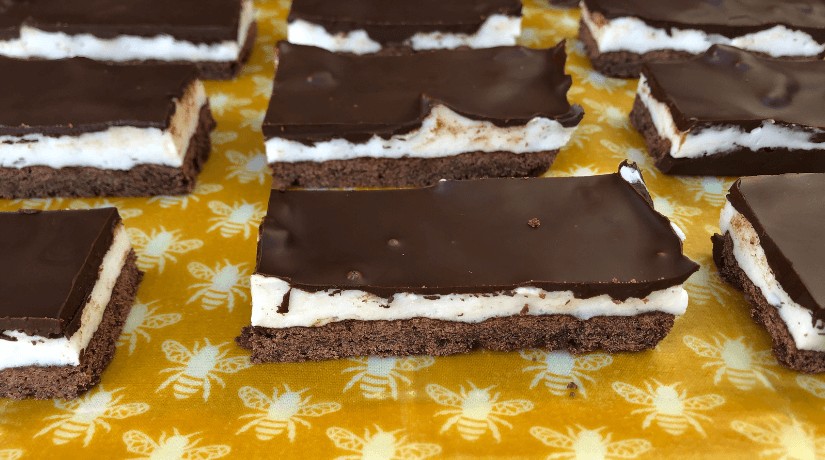 Peppermint Marshmallow Slice
This weeks recipe of the week is a Dark Chocolate Coated Peppermint Marshmallow slice with a delicious biscuit base, moist peppermint centre and a vegan dark chocolate topping.
Serving Size: Makes 24
Ingredients:
Base
3/4 cup organic stoneground wholegrain plain flour
1/4 cup organic self raising flour
2 tablespoons organic alkalised cocoa powder
1/3 cup brown sugar
100g unsalted butter, melted and cooled
1 egg beaten
Mint Marshmallow
3 teaspoons powdered gelatine
1/4 cup hot water
3/4 cup caster sugar
1/3 cup cold water
1 teaspoon peppermint essence
Topping
150g vegan dark chocolate buttons
2 teaspoons olive oil
Method:
Preheat your oven to 180′ celsius, then grease and line a 28 x 18cm (approx.) slice tin with baking paper, extending the baking paper 5cm above the tin edges.
Sift your flours and cocoa into a medium size bowl, then add the brown sugar, melted butter and egg and stir until well combined.
Press the base mixture evenly into the slice tin and bake for around 15 minutes or until the base is firm to touch. Allow to cool
For the marshmallow, place the hot water in a small heatproof jug and sprinkle in the gelatine powder. Fill a small saucepan with 3 cms of water and bring to a gentle simmer.
Once simmering, sit the jug in the saucepan and stir until the gelatine has dissolved. Once dissolved, remove from the saucepan and allow to cool.
Place the sugar, cold water and essence in a small bowl and using your electric mixer beat/blend for 5 minutes.
Whilst beating pour in the gelatine mixture slowly in a thin stream continuing to blend until the mixture forms glossy white peaks. Spread over the cooled base and refrigerate for 1 – 2 hours or otherwise until the mixture is set.
For the topping, put the chocolate buttons and olive oil in a medium sized heatproof bowl standing it over a small saucepan of barely simmering water, making sure the bottom of the bowl doesn't touch the water. Stir until melted and then allow to cool for 5 minutes.
Pour and spread the chocolate mixture over the set marshmallow then refrigerate for about 1 hour or until the chocolate has set.
Leave out of the fridge for 5 minutes before slicing then you are ready to serve. Enjoy.
About Author