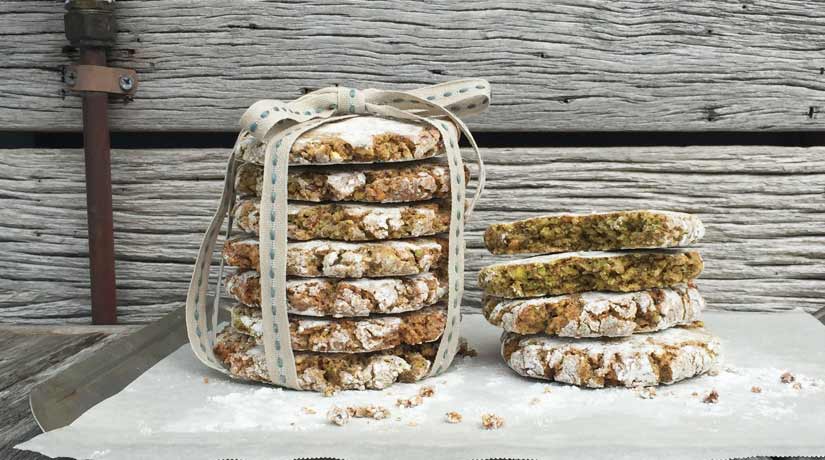 Pistachio & Fennel Amaretti Biscuits
We saw this recipe in a recent edition of Delicious Magazine Australia and thought is was a great one for gift ideas this Christmas. The biscuits are absolutely delicious (ha) and super easy to make. We loved the combination of fennel and pistachio nuts.
Serving Size: Makes 15 large biscuits
Ingredients:
480g pistachio kernels
4 1/2 teaspoons fennel seeds (toasted)
1 1/2 cups organic unbleached plain flour
1 1/2 cups caster sugar
3 egg whites
3/4 cup pure icing sugar (sifted)
Method:
Preheat your oven to 160'C and line 3 large baking trays with baking paper.
Toast the fennel seeds in a non stick saucepan for 3-5 minutes turning constantly to prevent burning.
In a food processor, whiz the pistachio kernels, toasted fennel seeds and flour until finely ground.
Transfer the mix into a bowl with the caster sugar and a pinch of salt.
In a separate bowl, whisk the egg whites until frothy and then add them to your dry ingredients.
Stir until the mixture is consistent and then divide the dough into 15 equal portion balls.
Place into a bowl with the icing sugar and coat each ball before placing onto the baking trays and pressing down using your hand to 9 cm rounds.
Bake for 20 minutes in your oven or until golden brown. Enjoy.
Inspiration:
We recommend halving the ingredients below for a smaller quantity and smaller biscuit.
Dairy Free | Delicious
About Author