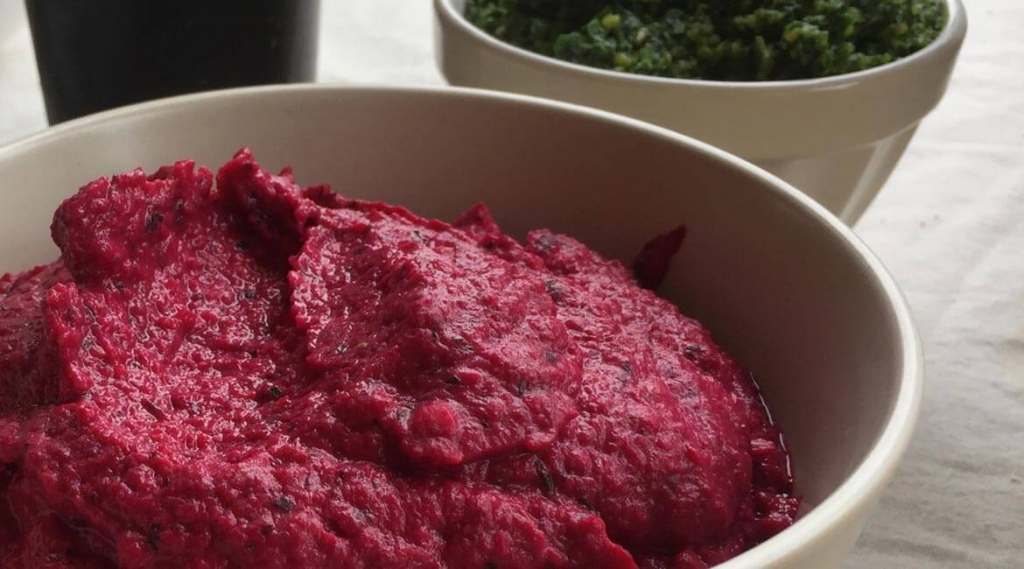 Beetroot Hummus (with Cannellini beans)
A deliciously sweet, easy to make beetroot hummus dip with a cannellini twist. The perfect condiment for antipasto platters or to eat on its own with your favourite vegetable sticks or crackers.
Ingredients:
2 large beetroots (roasted whole)
1 cup cooked cannellini beans
2 tablespoons hulled tahini
Juice of 1 lemon
1/2 cup parsley leaves
1/2 teaspoon cracked black pepper
1 teaspoon ground cumin
Method:
Wrap the beetroot in foil and roast in the oven, with skin on, for 45-60 minutes until soft. Remove from the oven, waiting until warm before peeling the skin off.
In a heavy based saucepan on medium to high heat toast the cumin and cracked pepper until the aroma fills the air. Remove from heat.
Add your warm beetroot, cumin and black pepper and pulse for 30 seconds.
Add the rest of the ingredients, and pulse for a further 1-2 minutes or until smooth and the parsley is well dispersed throughout.
Inspiration:
Serve alongside a selection of raw vegetable sticks, corn chips or crackers, or on an antipasto plate. Also great alongside freshly grilled fish, roast lamb and any green salad.
Gluten Free | Dairy Free | Sugar Free | Vegetarian | Vegan
About Author