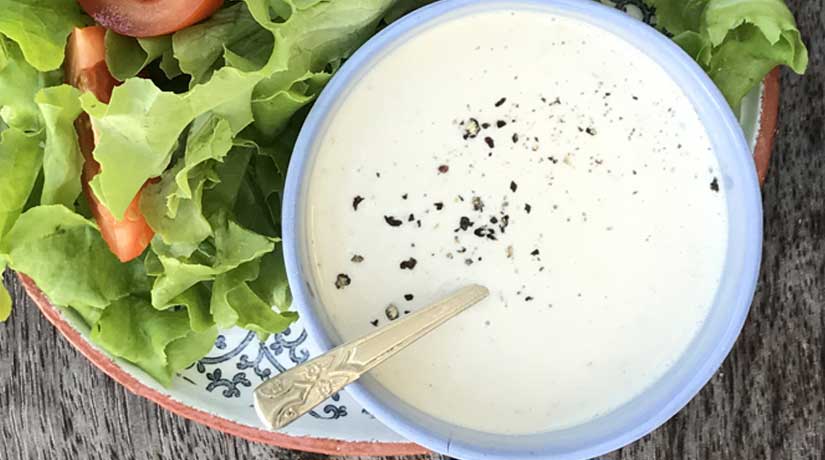 Tahini Lemon Dressing
From the popular Moosewood Resturant Cookbook published in the late 1990's comes this classic recipe for tahini lemon dressing. A few of us have used this recipe consistently over the years and felt it was a great one to share for when you are looking for more then just a simple salad dressing of oil or vinegar (or both).   It's simple to make, and tastes delicious as a dressing on green salads or roasted or blanched vegetables. It also compliments falafels, vegetable fritters, even lamb dishes.
Ingredients:
3/4 cup hulled tahini
5 tablespoons fresh lemon juice
1 small to medium clove of garlic, minced
3/4 to 1 1/2 cups of water (depending on your desired thickness)
1/2 teaspoon cracked black pepper
1 handful of very finely minced fresh parsley
pinch of Sea salt
Method:
Place the tahini, lemon juice and garlic in a food processor or blender and begin to process.
Keeping the motor running, slowly drizzle the water, checking every now and then to monitor the consistency. Turn it off when you have the consistency you would like.
Transfer to a small bowl or container, and add the black pepper, parsley and salt and mix thoroughly.
Cover tightly and refrigerate until ready to use.
Note: Keeps well refrigerated in an airtight jar for up to 2-3 weeks.
Gluten Free | Dairy Free | Vegan | Refined Sugar Free
This dressing compliments perfectly our Sensational Summer Salad recipe
About Author