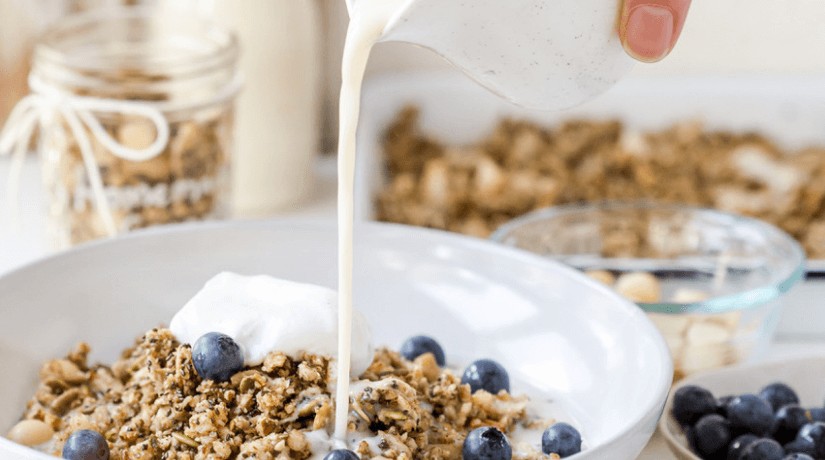 Gluten Free Macadamia Nut Granola
This weeks recipe of the week is a super delicious gluten free macadamia granola shared with us by Casey-Lee Lyons of Live Love Nourish. Casey-Lee is a Brisbane based Nutritionist, Naturopath, Recipe Creator and mother of two young girls. You can see other recipes from Casey-Lee on her website.
Serving Size: 8
Ingredients:
1 cup mixed premium raw nuts
1 cup of raw macadamia nuts
1/2 cup pepitas
1/4 cup sunflower seed kernels
1/4 cup chia seeds
1/2 cup coconut flakes
1/2 cup quinoa flakes
1.5 teaspoons of ground cinnamon
Pinch of sea salt
2 tablespoons macadamia or coconut oil
3 tablespoons of maple syrup
2 teaspoons of vanilla extract
Method:
Pre-heat your oven (fan-forced) to 150'C.
In a high powdered blender or food processor pulse the nuts until they are roughly chopped, or chop by hand to desired texture.
In a large mixing bowl, mix all the nuts, seeds, coconut and quinoa together.
Add the oil, maple syrup and vanilla to the mix and combine well.
Add the cinnamon & sea salt and mix through.
Spread the mixture evenly in a single layer onto a lined oven tray (or 2 trays) and bake in the oven for 12-15 minutes or until lightly golden brown. Check after halfway to ensure muesli is not burning and mix around.
Remove from the oven and allow to cool. Store in an airtight (glass) jar in a cool and dry place.
Serve with fresh fruit and yoghurt or milk of your choice.
Gluten Free | Paleo | Dairy Free | Refined Sugar Free
About Author