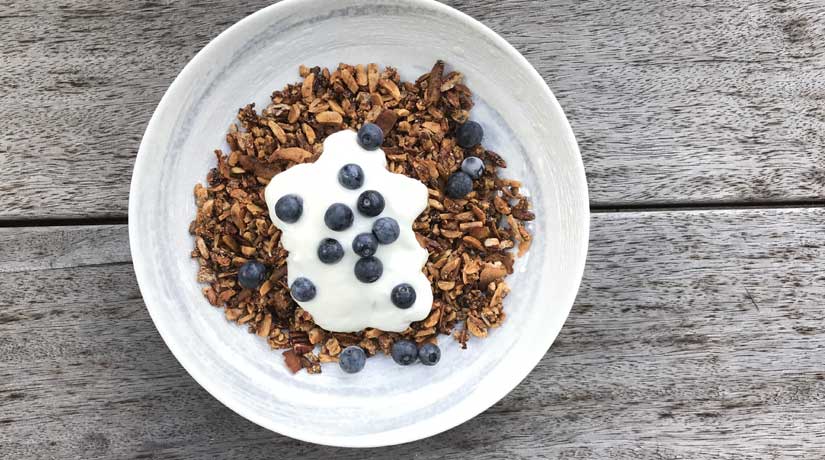 Gluten Free Maple Granola
We had a bit of fun in the warehouse this week making up a gluten free granola for our readers. Choosing a few of our favourite nuts and seeds, and sweetening with a little maple syrup, we attempted to keep it as simple as possible, but with all the beautiful flavours. We topped it with our favourite natural COYO coconut yoghurt and fresh blueberries. Absolutely delicious!

Ingredients:
1/2 cup unsweetened coconut flakes
2 cups slivered raw almonds
1 1/4 cup raw pecans
1 cup raw walnuts
3 tablespoons chia seeds
1 tablespoon flaxseeds (linseed grain)
1 1/2 teaspoons of ground vanilla powder
1/4 cup sunflower seeds
2 tablespoons maple syrup
Topping:
2 tablespoons CoYo Coconut yoghurt
Small handful of fresh blueberries
Method:
Heat your oven to 160'C.
Place the pecans and walnuts in your food processor and pulse for a few seconds until broken into halves and quarters.
Mix all the dry ingredients together in a bowl, and then add your maple syrup, stirring until the liquid is even throughout (to the best it can be).
Pour your mixture onto a tray lined with baking paper and place into the oven.
Bake for around 15-20 minutes before turning. Then bake a further 10 minutes until golden brown.
Allow to cool and then store well in an airtight jar.
Gluten Free | Dairy Free | Refined Sugar Free | Vegan | Paleo
If you like this recipe you may also enjoy our Peanut Butter Granola
About Author