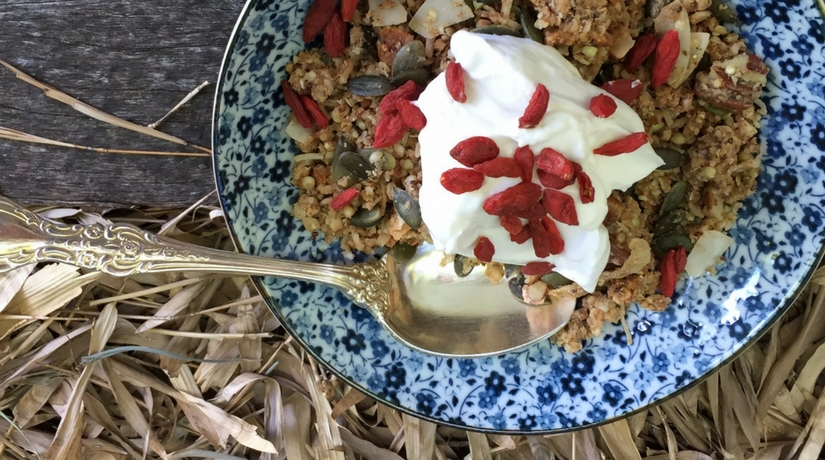 Surfers Granola
This is the first recipe contribution by Affordable Wholefoods Owner Mark Evans. Mark picked the ingredients, made and photographed this himself. Mark is a keen surfer and recommends this to be the perfect post surf breakfast. So here it is….enjoy!
Serving Size: Makes a lot
Ingredients:
500 grams pecan nut meal  (can be any nut meal)*
1 cup organic rolled oats
1/4 cup chia seeds
1/2 cup buckwheat kernels
1 cup quinoa flakes
3/4 cup shredded or flaked coconut
3/4 cup of pepitas
2 tablespoons olive oil, coconut oil or butter (your preference)
1 cup maple syrup
1 teaspoon ground cinnamon
Method:
1. Mix the dry ingredients together in a bowl.
2. Gently heat the oil (or butter) maple syrup and cinnamon in a pot on the stove whilst stirring. Do not boil.
3. Once the oil, maple syrup and cinnamon are mixed well pour them into the dry mix and mix very well.
4. Spread the mixture out on a tray or two and roast in a low oven (120'C) for about 50 minutes.
5. Once cool store in a air tight jar.
This should be enough for two weeks or 8 – 10 surf sessions.
* Make your own pecan nut meal by processing fresh pecans into a meal in your food processor.
Dairy Free | Vegan | FODMAP |Refined Sugar Free 
About Author