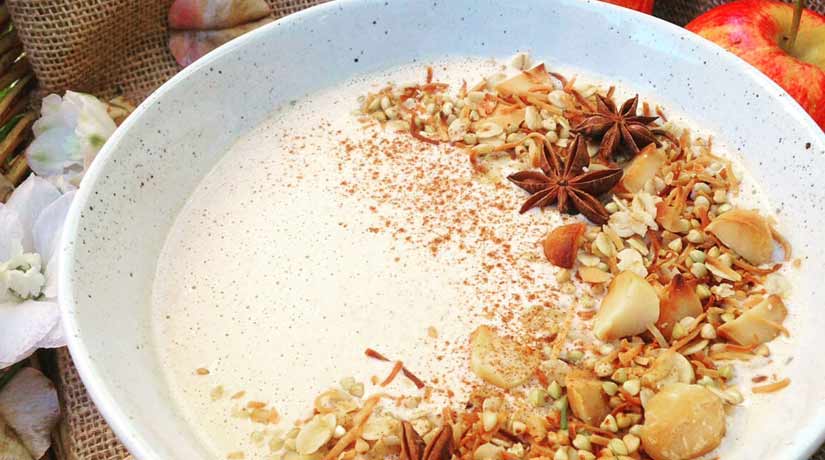 Apple Winter Spiced Smoothie Bowl
This weeks Recipe comes to us from Emma Hindmarsh, one of our Coffs Harbour store regulars who also happens to enjoy making and photographing foods. Here she has made a delicious Apple Winter Spiced Smoothie Bowl featuring oats, mixed spice and red apples. Enjoy.
Ingredients:
1/4 cup uncontaminated oats
1 red apple cooked in mixed spice
1 cup of your favourite nut milk (For this recipe I used cashew)
1-1/2 teaspoon Maca Power
1/4 teaspoon vanilla powder
1/2 teaspoon ground cinnamon
1 1/2 desert spoon nut butter (almond or macadamia)
Method:
Soak the oats over night in the nut milk.
Peal and dice the apple, then place in a saucepan with boiling water and 2 tsp of your mixed spice and simmer until soft (I like to do this the night before so you don't end up with a hot smoothie).
Place all ingredients into your blender and let fly until smooth and creamy. You may want to add more nut milk depending on how thick you like your smoothie.
Macadamia Crumble topping
Ingredients:
1/4 cup roughly chopped macadamia nuts
2 tablespoons organic shredded coconut
1 tablespoon buckwheat kernels
1 dessert spoon uncontaminated rolled oats
¼ teaspoon ground cinnamon
1 teaspoon maple syrup (optional)
1 desert spoon melted coconut oil
Method: 
Place all ingredients in a bowl and mix. Then spread them on a baking tray and place under the grill until golden brown and crunchy.
Pour your smoothie into a bowl, top with macadamia crumble and enjoy!
Dairy Free | Refined Sugar Free
Save
Save
Save
About Author