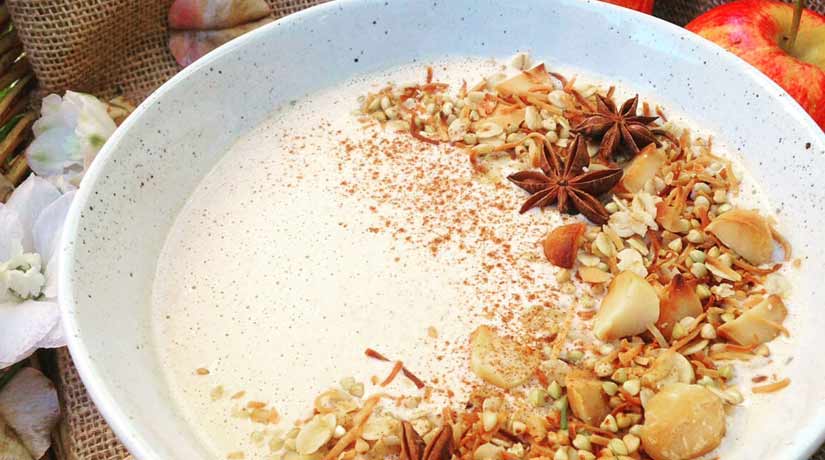 Apple Winter Spiced Smoothie Bowl
The second of our guest bloggers is Emma Hindmarsh. Emma is a young artist/florist and food lover with a passion for photography, flowers and wholefoods. So perfect for a collaboration.
Emma specializes in smoothies and gluten free baking. Here is what she shared with us when we asked her for a little winter inspiration in a bowl.
"Everyone says that breakfast is the most important meal of the day, so why not try and make it as exciting and delicious as you can, while nourishing your body with whole foods ready for the day ahead.
My interest in food was sparked when I was diagnosed with IBS (irritable bowl syndrome) and a gluten intolerance at age 20. I began to do a lot of research on the GUT and how best to manage my condition.I am a big believer in "food is medicine" and try to include a wide variety of whole foods in my recipes. To me smoothies are a great way to start the day, and I aim to make them as nutrient dense as possible and love using a variety of colourful ingredients not just for visual appeal but also for maximum nutrients. Smoothies are much easier to digest than other meals and so great for people with digestive issues.
As a florist I am a very visual person and love to make everything pretty. I also love to bake, so for me topping a smoothie bowl with different fruits, seeds, nuts and powders is like putting the icing on the cake. It is a fun way to make your meal that bit more exciting as well as adding a few extra vitamins. Especially if you are making it for the whole family, each person can make their smoothie their own creation. All  you need are a few jars with some different toppings and let creativity fly! It doesn't have to be anything fancy or expensive just nutritious and fun!
As winter begins to set in I found it hard to get excited about a cold smoothie on a frosty morning. So this is why I created this Apple Spice Smoothie Bowl. It is a delicious, nourishing and warming way to start the day. You can change up the nut milks or swap the oats for buckwheat if you prefer. I invite you to experiment and have fun. I hope you enjoy this delicious breakfast as much as I do"
Emma xx
Ingredients:
1/4 cup uncontaminated oats
1 red apple cooked in mixed spice
1 cup of your favourite nut milk (For this recipe I used cashew)
1-1/2 teaspoon Maca Power 
1/4 teaspoon vanilla powder 
1/2 teaspoon cinnamon
1 1/2 desert spoon nut butter
Method:
Soak the oats over night in the nut milk.
Peal and dice the apple, then place in a saucepan with boiling water and 2 tsp of your mixed spice and simmer until soft (I like to do this the night before so you don't end up with a hot smoothie).
Place all ingredients into your blender and let fly until smooth and creamy. You may want to add more nut milk depending on how thick you like your smoothie.
Macadamia Crumble topping
Ingredients:
1/4 cup roughly chopped macadamia nuts 
2 tablespoons organic shredded coconut
1 tablespoon buckwheat kernels
1 dessert spoon uncontaminated rolled oats
¼ teaspoon cinnamon 
1 teaspoon maple syrup (optional)
1 desert spoon melted coconut oil
Method: 
Place all ingredients in a bowl and mix. Then spread them on a baking tray and place under the grill until golden brown and crunchy.
Pour your smoothie into a bowl, top with macadamia crumble and enjoy!
Dairy Free | Refined Sugar Free
PLEASE NOTE: Our Uncontaminated rolled oats contain 3ppm (parts per million) gluten and hence by Australian Standard cannot be officially stated as being gluten free. These are however the same oats that are termed 'Gluten Free' in the USA.
Save
Save
Save
About Author