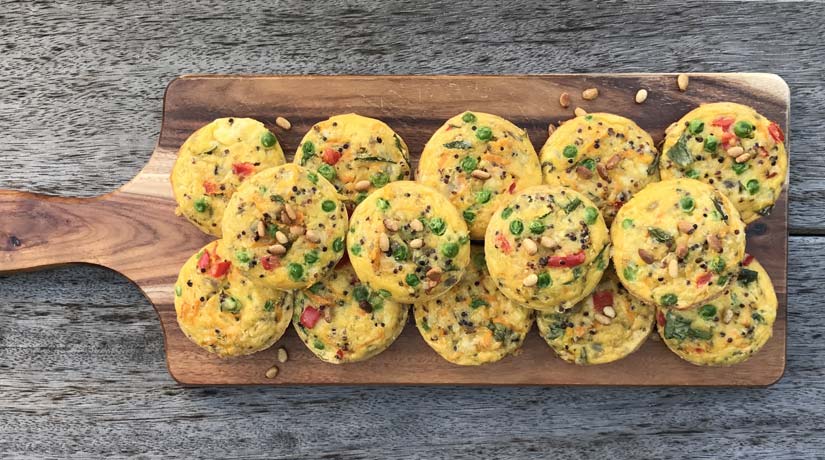 Gluten Free Mini Quinoa & Vegetable Frittata's
It's so easy to run out of ideas for school lunches or healthy snacks to have on hand in the fridge. Often this results in us going for a less nutritious (or sometimes sugary) option which doesn't really support growing or fully grown bodies. Here is a simple frittata recipe using quinoa and fresh vegetables that is a delicious option for those looking for a little healthy inspiration.
Preparation time: 1/2 hour
Cooking time: 1/2 hour (approx)
Serves: 25 bite size muffins
Ingredients:
1 cup of cooked organic tri-coloured quinoa
6 eggs
½ red capsicum, diced
1 large carrot, grated
1 small red onion, diced
1 cup green peas
3/4 cup choice of gluten free plain flour
1/2 cup Feta cheese, crumbled (optional for those who are dairy free)
Salt and pepper, to taste
Handful fresh basil & thyme leaves, torn
Olive oil for greasing
Method:
Preheat your oven to 180 degrees Celsius.
Cook the quinoa set aside to cool (for simple instructions click here)
In a large saucepan, gently fry off the onion, capsicum and carrot on medium heat until lightly brown and softened (about 10 minutes).
Transfer the cooked quinoa to a mixing bowl and add the rest of the prepared ingredients, mix thoroughly to combine.
Grease (well) a mini muffin tray with olive oil and gently spoon the mixture, filling it almost to the top. Place in the oven and bake for 20-30 minutes or until golden brown on the edges.
Allow to cool slightly before serving. Prepare a quick leafy green salad if enjoying these muffins for lunch or dinner. Enjoy!
Gluten Free | Sugar Free | Vegetarian
About Author