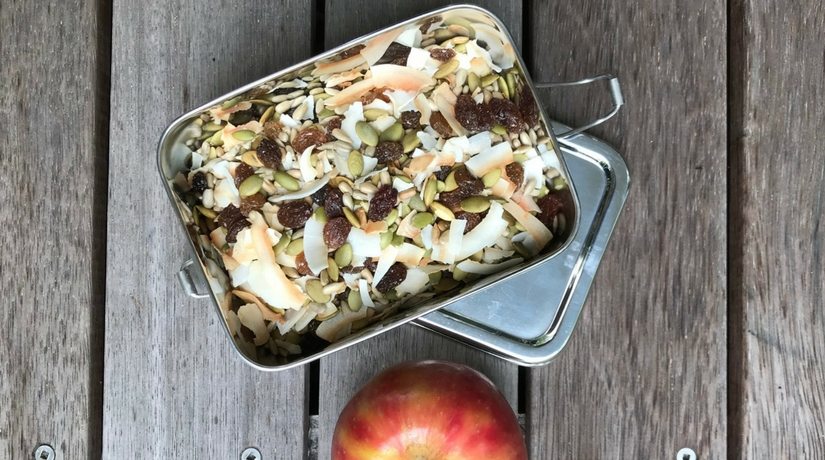 Healthy Trail Mix for Kids
It can be difficult to find good lunch box snacks for kids that are nut free and in line with our schools allergy policies. Nuts are such a great way to get nutrition into our children, especially whilst they are burning so much energy running around in the playground or learning in the classroom – so we've come up with an alternative. A delicious gluten free trail mix recipe that is school friendly. It offers all the nutrition nuts would through the use of sunflower kernels and pepitas, as well as juicy sultanas and tasty toasted coconut flakes. It's also super easy to make (about 20 minutes in total including baking time). Enjoy!
Ingredients:
1/2 cup of  organic natural sultanas
1 cup organic coconut flakes
3/4 cup organic pepitas
3/4 cup organic sunflower kernels
Method:
Preheat your oven to 180'C
Prepare 3 baking trays (with or without baking paper) and pour onto each tray your sunflower kernels, pepitas and coconut flakes.
Bake in the preheated oven for around 15 minutes watching to not over brown. (Note: the coconut flakes will need to come out 5 minutes before the seeds as they toast much more quickly).
Remove the seeds and coconut from the oven and allow to cool.
Once cooled place all ingredients together in a large bowl and mix well.
Store in air tight containers in a cool area.
Gluten Free | Dairy Free | Nut Free | Vegan | Refined Sugar Free 
About Author