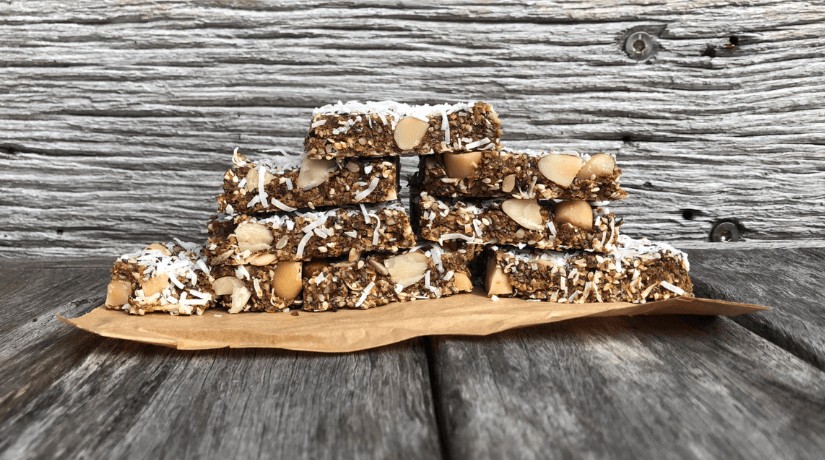 Prune Coconut and Cinnamon Bars
This weeks Recipe has been inspired by an old Donna Hay recipe. With just a few tweaks we made this delicious snack bar, full of protein and fibre, and a most enjoyable way to eat to prunes.
Ingredients:
1 cup of prunes, pitted
8 large fresh Medjool dates,  pitted
1/4 cup LSA
1/4 cup pea protein powder
1 teaspoon ground cinnamon powder
2 tablespoons of tahini (we used unhulled but either is fine)
1 1/2 cups of shredded coconut
2/3 cup roasted organic brazil nuts (chopped)
1/2 cup of IF sunflower seeds
1/4 cup sesame seeds (toasted)
1 tablespoon organic chia seeds
Method:
Place the prunes, medjool dates, LSA, pea protein powder, cinnamon, tahini and one cup of the shredded coconut into your food processor and whiz for around 2 minutes or until the mixture has come together smooth.
Transfer this mix to a large mixing bowl and add the roasted chopped brazil nuts, sunflower seeds, toasted sesame seeds and chia seed and mix well to combine.
Press the mixture into a lightly greased 20cm square baking tin lined with non-stick baking paper.
Top with the remaining coconut pressing down to secure.
Refrigerate for up to one hour and then remove and cut into slices ready to serve.
Gluten Free | Dairy Free | Vegan | Refined Sugar Free
About Author