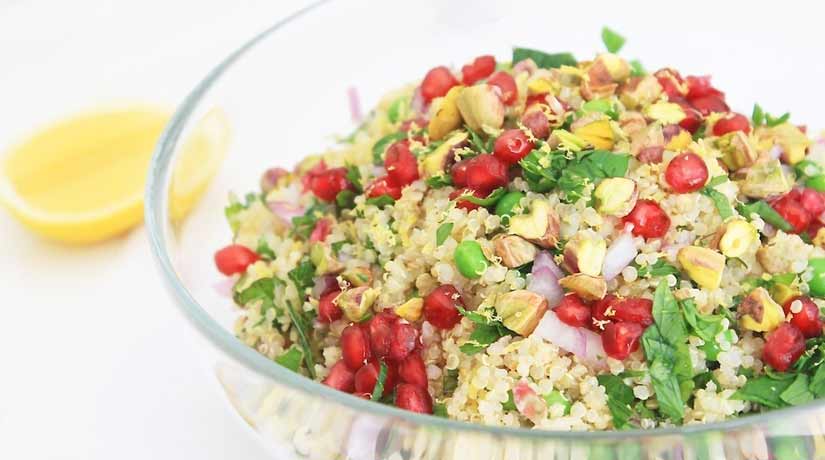 Colourful Quinoa Salad
Another super yummy quinoa salad to share with you all and a double recipe share from Casey-Lee of Live Love Nourish. We felt this one appropriate for the silly season, not only because its super nutritious and filling (perhaps countering any temptation to indulge), but also for its gorgeous fresh colours to light up the table. Enjoy!
Ingredients:
3 cups cooked white quinoa, cooled*
1.5 tablespoons extra virgin olive oil
Zest of 1 lemon
3 tablespoons fresh lemon juice
1/2 small red onion, finely diced (or 3 spring onions, finely chopped)
1/2 cup fresh mint, chopped
1/2 cup fresh parsley, chopped
3/4 cup frozen baby peas
Arils (seeds) from 1 pomegranate**
1/3 cup pistachio kernels, roughly chopped
Pinch pink salt and cracked black pepper
Method:
In a mixing bowl combine cooked and chilled quinoa with olive oil, lemon zest and juice.
Stir through through red onion, mint and parsley.
In a small heatproof bowl pour boiling water over peas to thaw (leave for 2-4 minutes). Drain well.
Stir through peas and pomegranate seeds through quinoa.
Season to taste.
Add pistachios just before serving.
Recipe Tips & Tid bits:
I cook my quinoa in a rice cooker using the ratio 1 cup quinoa: 1 ¼  cups waters. Alternatively using a stove top, rinse thoroughly your quinoa then add 1 cup quinoa to 1 ¼ cups water, bring to the boil, and simmer for up to 15 minutes until fluffy.
**To remove seeds from a pomegranate – use the palm of your hand to roll the whole pomegranate on a flat surface with a little pressure to loosen the seeds (you will hear them loosen). Cut pomegranate in half and use the back of a spoon to hit the outer skin so the seeds pop out below.
Gluten Free | Dairy Free | Refined Sugar Free | Vegetarian | Vegan |Paleo
To see more from Casey-Lee visit her Instagram Page here
Shop Recipe Ingredients
[products ids="16975,17601,19104″ columns="3″]
About Author