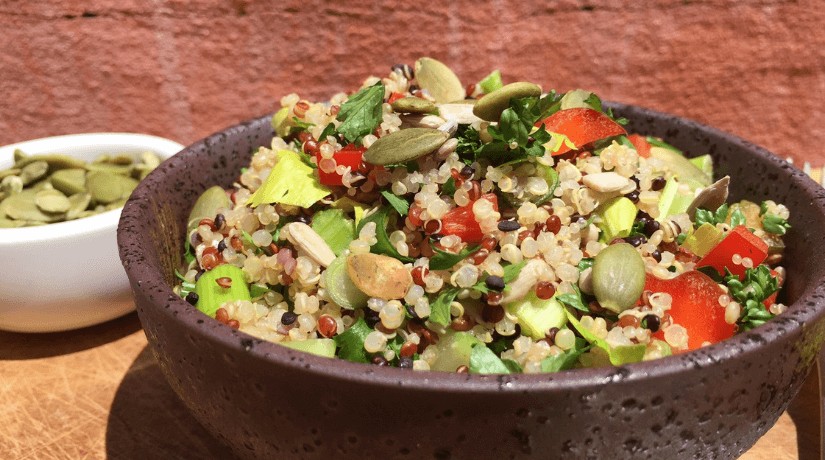 Gluten Free Quinoa Tabouli (Tabbouleh)
A delightful gluten free summer salad using our organic tri-coloured quinoa; a combination of red, black and white quinoa varieties. The Andean mix adds vibrancy, colour and flavour (as well as extra nutrition). And yes, it tastes as good as it looks.
Ingredients:
1 1/2 cups tri-coloured quinoa (makes roughly 4 cups cooked – see instructions below)
1 red capsicum (diced)
2 celery sticks (diced)
1/4 cup pepitas
1/4 cup sunflower seeds
1 tablespoon black sesame seeds
1 cup fresh chopped coriander
1 1/2 cups fresh chopped parsley
Cracked pepper to taste
For the dressing:
1/4 cup lemon juice
1/2 teaspoon cracked black pepper
1 clove of garlic (crushed)
1/4 cup olive oil
Method: 
1. Place all ingredients (minus the dressing component) together in a large bowl and stir until well mixed
2. Mix together the dressing ingredients and dress just before serving.
Inspiration:
Try or as a side to lamb, chicken, fish or legumes.
Cooking your Quinoa: Follow the general rule 1 part quinoa to 1 & 1/4  parts water for 10 – 12 minutes or until the tail pops out of the quinoa grain. Try cooking with a pinch of fennel and celery seeds to enhance the earthy flavour.
Enjoy!
Gluten Free | Dairy Free | Nut Free | Vegetarian | Vegan 
Save
Save
Save
About Author