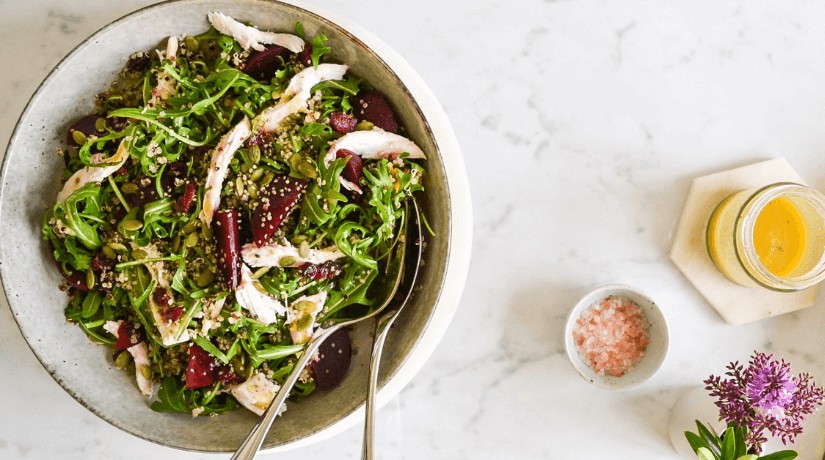 Poached Chicken & Quinoa Seedy Salad
A delicious spring inspired salad with fresh ingredients including poached chicken, quinoa, rocket and hemp seed. This high protein salad can be enjoyed any time of year and tastes as good as it looks! Recipe contributed by Tristen Van Der Kley of Tris Alexander Nutrition.
Preparation time: 15 minutes       Serving Size: 2
Ingredients:
250 grams free range chicken breast
1 cup of cooked white quinoa
60g of baby rocket
100g cooked beetroot (Tris uses Love Beets (pre-cooked beets for convenience) chopped in quarters
2 tablespoons pumpkin seeds (pepitas)
2 teaspoons organic hemp seeds
Dressing:
4 tablespoons Extra virgin olive oil
1-2 tablespoons of apple cidar vinegar
1/2 teaspoon wholegrain mustard
1-2 teaspoons organic honey
1/4 teaspoon sea salt
Method:
Slice the chicken breast horizontally, then each piece in half again (not too thick).
Bring a large pot of water to the boil. Place the chicken breast pieces in the water and submerge fully. Reduce the heat slightly so the water is not quite simmering (a few bubbles are ok).
Leave the chicken to sit it the water for 5-9 minutes, checking at 5 minutes to ensure you don't overcook.
Remove the chicken once cooked (it should still be juicy and tender), and place in a colander. Run cold water over the chicken to cool and stop it from continuing to cook.
Assemble the rest of the salad as you would like it and slice the chicken into the size you would like.
Place all the dressing ingredients into a glass jar and shake until well combined. Pour over the salad and serve. Enjoy!
Inspiration:
Replace the chicken with tofu or legumes and you have a vegetarian/vegan alternative.
Gluten Free | Dairy Free | Refined Sugar Free
If you like this recipe you might also like our Gluten Free Chicken Nuggets with Quinoa
About Author