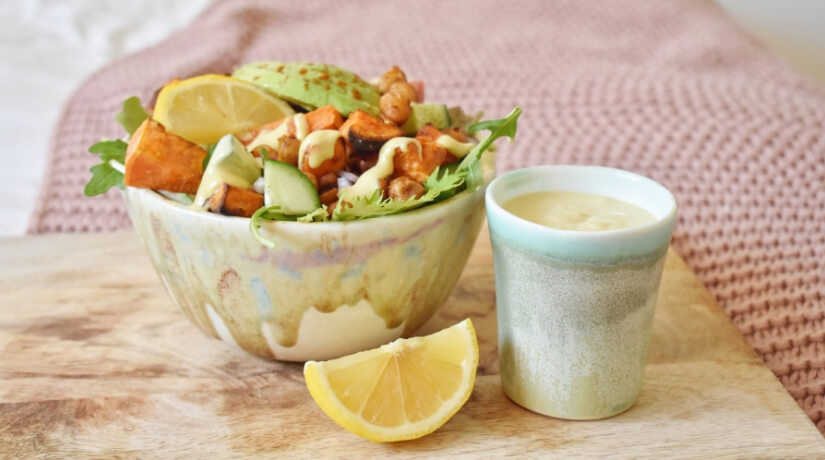 Roasted Chickpea and Sweet Potato Salad
This weeks Recipe of the Week is a delicious Roast Chickpea & Sweet Potato Salad. Using our signature biodynamic chickpeas with spices, herbs, roasted sweet potato and fresh salad ingredients, this one is perfect to enjoy year round. Thank you to Meg Phillips for contributing another beautiful vegan recipe.
Serving Size: 2
Ingredients:
1 cup of dried biodynamic chickpeas
1/2 teaspoon ground cumin
1/2 teaspoon ground coriander
1/2 teaspoon sweet paprika
1/2 teaspoon Italian mixed herbs
1/4 teaspoon maple syrup
1 medium sweet potato, peeled & chopped in to small cubes
1 Lebanese cucumber
1 large ripe tomato
3 cups of mixed green leaves
1 avocado, sliced
Olive oil for garnish and chickpeas
Method:
Soak the chickpeas in a bowl of water overnight. Drain the water and place into a saucepan covering with fresh water to bring to the boil and simmer for around 45 minutes or until soft.
Drain the chickpeas and place them in a bowl to cool. Sprinkle with the herbs and spices then drizzle with the maple syrup and a dash of olive oil.
Preheat your oven to 200 degrees celsius.
Place the chickpeas onto a lined tray with baking paper and cook in the heated oven for 15 minutes.
Meanwhile, place the chopped sweet potato on a baking tray lined with baking paper and coat with olive oil, and season with salt and pepper.
Bake the sweet potato in the same oven for around 30 minutes or until golden and crispy.
wash and prepare the greens, chop the tomato and cucumber and place together in a large mixing bowl.
Add the cooked chickpeas and sweet potato, then the dressing (recipe below).
Tahini Dressing
1/4 cup hulled tahini
1/4 cup nutritional yeast flakes
1 small garlic clove, minced
juice of 1/2 lemon
1/2 tablespoon of olive oil
3 tablespoons of water
Method:
Add all ingredients to a small mixing bowl
Mix until smooth and creamy adding extra water if needed
Pour the dressing over the salad once you are ready to serve. Enjoy
Gluten Free | Dairy Free | Vegan | Refined Sugar Free 
About Author