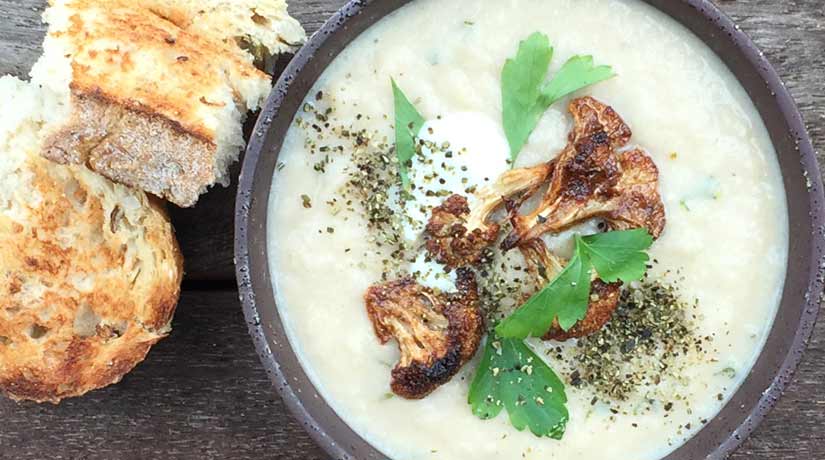 Cauliflower & White Sweet Potato Soup (with Bull Kelp)
A great winter warmer, this soup is rich and creamy with the Middle Eastern flavours of cumin, coriander and paprika spice. A great recipe for those cooler months.
Ingredients:
1 medium cauliflower (cut into small florets)
2 medium white sweet potato (with purple skins removed) cubed
1 teaspoons ground cumin
2 teaspoon ground coriander
2 teaspoons sweet paprika
½ teaspoon ground cinnamon
3 tablespoons olive oil
1 small onion chopped
2 cloves garlic chopped
2 ½-3 cups quality vegetable stock
¼ cup chopped parsley
1/3 cup natural yoghurt (optional) to serve
Tasmanian Bull Kelp to garnish
Method:
Preheat your oven to 220'C.
Combine the cumin, coriander, sweet paprika and cinnamon in a small bowl mixing well.
Add 2 teaspoons of the spice mix into another bowl with half the cauliflower florets and 1 tablespoon of olive oil, gently tossing the cauliflower until evenly coated.
In a baking tray, roast the spiced cauliflower in the oven for 15-20 minutes or until golden brown, then leave aside.
In a large saucepan heat 2 tablespoons of olive oil and saute (on medium heat) the remaining cauliflower with the onion, garlic and sweet potato for up to 10 minutes until softened.
Add the remaining spices and cook for another 2 minutes until spice aroma is released.
Add the stock and bring to the boil then simmer for a further 20 minutes until both the sweet potato and cauliflower is tender.
Remove from heat and using a hand held blender, puree your soup with the parsley until smooth and creamy.
Ladle the soup into your serving bowls and garnish with the roasted cauliflower florets, parsley, yoghurt and a pinch of ground chilli powder.
Finish off with a sprinkle of Tasmanian Bull Kelp for extra nutrition.
Inspiration:
For a little more warmth, try adding ½ teaspoon of ground chilli to the spice blend.
Read more here about the benefits of Tasmanian Bull Kelp
Gluten Free | Vegan | Vegetarian 
Save
About Author