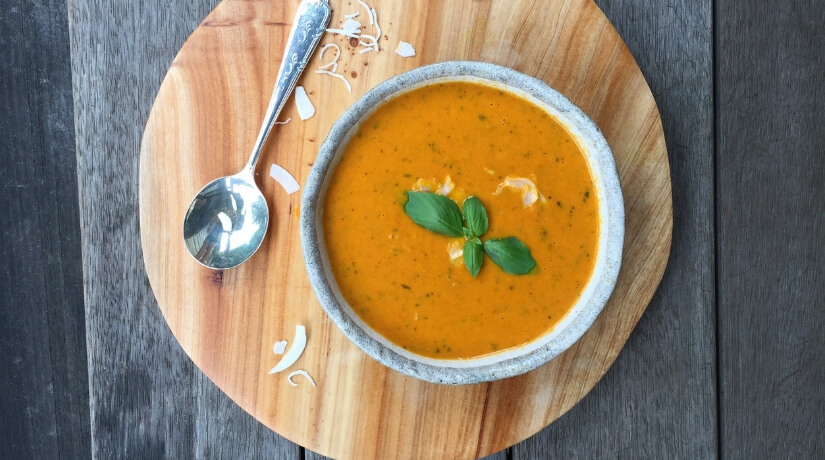 Creamy Tomato Soup
This weeks Recipe of the Week has been contributed by Affordable Wholefoods owner Mark Evans. It's a creamy take on traditional tomato soup using coconut cream, fresh basil  and garlic to flavour.
Serving Size: Serves 6
Ingredients:
12 medium size tomatoes, diced
2 carrots, thinly sliced
1 can of coconut cream
2 teaspoons tomato paste
1/2 cup fresh basil, finely chopped
1/2 cup spring onions, finely chopped
1/2 cup of vegetable stock
4 tablespoon olive oil
2 cloves of garlic, finely chopped
1 bay leaf
Salt & pepper to taste
Method:
Heat the olive oil and saute the carrots, garlic and spring onions seasoning with salt and pepper.
Add all other ingredients and bring to a high temperature then simmering for 20 minutes, stirring regularly.
Remove from the stove and allow to stand for 5 minutes before blending in the pot with a stick mixer or place into a blender or food processor and blend until silky smooth.
Garnish with fresh basil leaves and a few coconut flakes.
Gluten Free | Dairy Free | Refined Sugar Free 
About Author