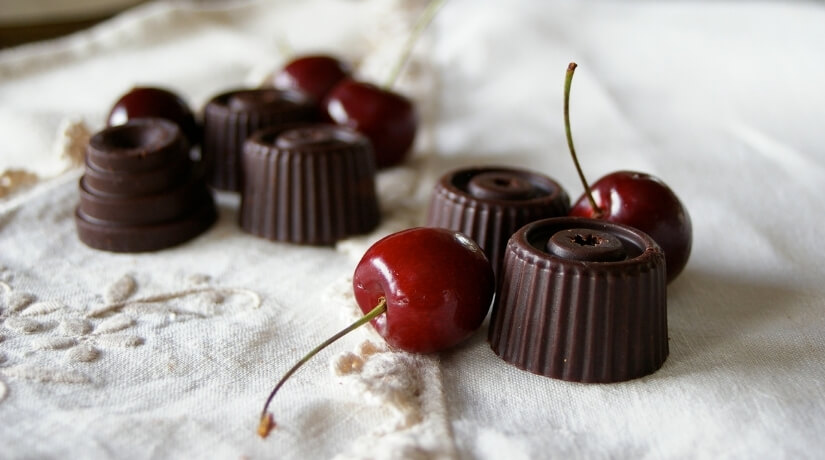 Dark Chocolate
This weeks Christmas Recipe of the Week is a homemade Dark Chocolate recipe from Alyssia Fraser, author of cook book 'The Food At My Table – Sweets'. All of Alyssia's recipes are gluten, dairy and soy free and use only natural sweeteners such as rice malt syrup and xylitol. This recipe is super simple to make and tastes delish.
Ingredients:
1/2 cup xylitol
3/4 cup cocoa powder
3 teaspoons of rice syrup
1/2 teaspoon vanilla extract
200g cocoa butter
Method:
Melt the cocoa butter in a double boiler.
Grind the xylitol to a fine powder (in a food processor or similar).
Using the food processor, mix the cocoa powder and the xylitol together.
Slowly add the melted cocoa butter while the processor is turning until well combined.
Add the vanilla extract and rice syrup and blend again.
Pour the chocolate mix into a double boiler to finish the process. Warm until soft and well mixed, stirring occasionally.
If you are using this chocolate to make chocolates immediately, you will need to temper the mix (see below). This will give you a glossy look and the chocolates will not melt at room temperature. If you are storing the chocolate to use at a later date, it is best not to temper it now.
How to Temper
In a double boiler, heat the chocolate to 45'C, cool to 27'C and then reheat to 31'C.
Place into your setting moulds or pour over whatever you had intended.
Note: Do not get any water in the chocolate at all in this process as it will not set if you do.
Gluten Free | Dairy Free | Vegan | Refined Sugar Free 
To see more from Alyssia visit her website here
About Author