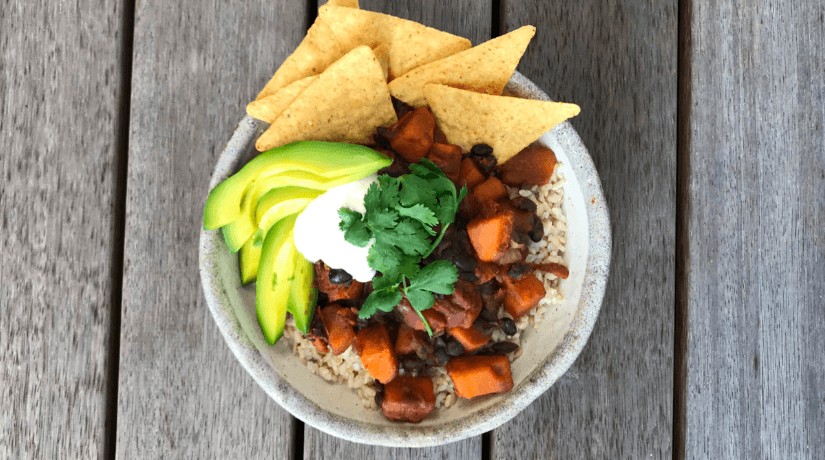 Black Bean Chilli
This weeks Recipe of the Week is a simple and tasty Mexican style dish that is perfect in soft taco's or tortilla's or accompanied with rice. It's warm, spicy and soft on the palate.
Serving Size: 6
Ingredients:
1/4 cup olive oil
3 large sweet potatoes, diced (about 1kg in total)
1 large red onion, diced
2 garlic cloves
2 tablespoons chilli powder
1 teaspoon ground cumin
1 pinch cayenne pepper
1/2 teaspoon black pepper
2 cups black turtle beans (soaked overnight and rinsed)
4 large tomatoes, diced
4 cups of vegetable stock
Avocados to garnish
Method:
Warm up the olive oil in a large saucepan over medium heat.
Add the sweet potato and onion and stir occasionally until the onion is translucent and the sweet potato is slightly soft. (about 7-8 minutes).
Add the garlic and cook for a further 30 seconds to a minute.
Stir in the spices, followed by the black turtle beans, tomatoes and stock.
Bring to the simmer then reduce the heat to medium-low. Cover your pot, stirring occasionally for the next 45 minutes.
Remove the lid and continue cooking until the beans are soft (around 1 minute).
Serve with avocado and rice.
Gluten Free | Dairy Free | Vegetarian | Vegan | Refined Sugar Free
About Author