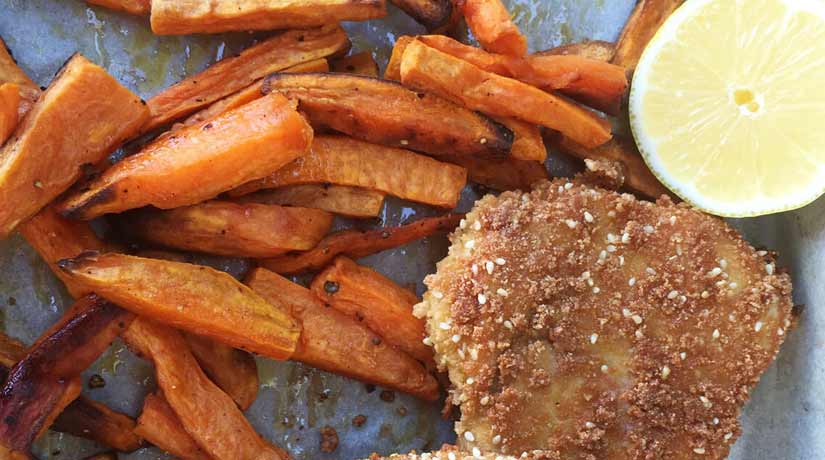 Gluten Free Crispy Crumbed Fish
A simple classic dish – homemade Fish and Chips with a twist. The fish we crumbed with our new Gluten Free Crispy Crumbs. A yummy blend of gluten free flours and bran made from rice, chickpea and maize.
With gluten allergy and intolerance on the rise, this recipe offers a tasty alternative to the real thing, using sweet potato and serving with fresh salad greens. Enjoy.
Serving size: 4
Ingredients:
4 medium size pieces of white fish (we used flake in this recipe)
1 1/2 cups of gluten free crispy crumbs
2 tablespoons sesame seeds
1/4 teaspoon cracked pepper
2 eggs (lightly beaten)
2 large sweet potatoes (cut into wedges)
1/2 teaspoon ground turmeric
salt and pepper
Salad Greens of your choice
Method:
Coat the sweet potato wedges in turmeric using a dash of olive oil to wet slightly. Pop into the oven and bake at 180′ C for 35-40 minutes or until crispy.
Mix the crispi crumbs with the sesame seeds and black pepper and spread out onto some baking paper or a large plate.
Place the fish (one piece at a time) into the egg mixture and then onto the plate with your crumbing mix. Coat well, pressing the fish into the crumbs to ensure sticking.
Heat 2-3 tablespoons of olive oil in a non stick fry pan. Add the fish and cook both sides until golden brown.
Meanwhile, prepare your favourite salad greens and serve alongside the fish and sweet potato wedges with a little sweet chilli sauce or aioli.
Wallah! Homemade Gluten free Fish and Chips…
Gluten Free | Dairy Free | Refined Sugar Free
About Author