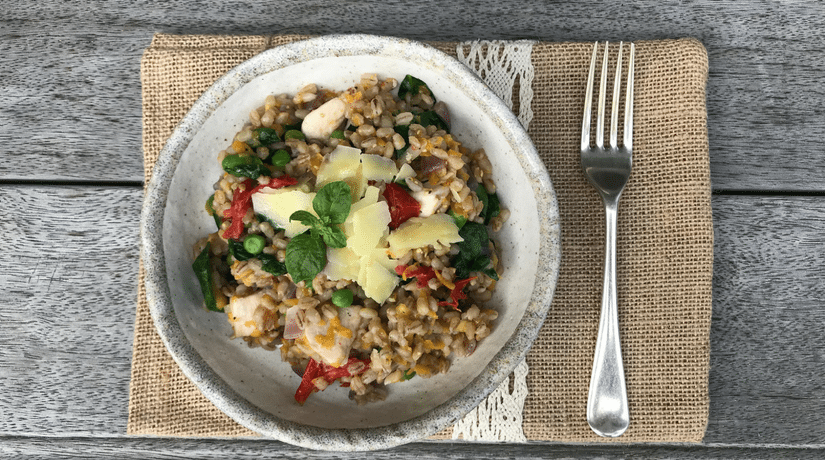 Organic Barley Pumpkin Risotto with Chicken
With winter fast approaching we have been eating more warming foods of late and recently made this pumpkin risotto dish using organic pearl barley in place of the traditional arborio rice.
The barley has a rich nutty flavour, has a lower GI than rice and is a rich source of fibre. The combination of pumpkin, sun-dried tomatoes and chicken is absolutely delicious. This one comes highly recommended.
Serves: 4
Ingredients: 
Olive oil
1 red onion (finely chopped)
3 cloves of garlic (finely diced)
1/2 teaspoon dried oregano rubbed
1 cup organic pearl barley
2 cups vegetable stock
300g chicken breast
200g grated pumpkin
1/2 cup frozen peas
1/4 cup sun-dried tomatoes
2 cups baby spinach leaves
1 tablespoon sunflower seeds
1/2 teaspoon black pepper
1 tablespoon grated parmesan cheese
Method:
Heat a tablespoon of olive oil in a heavy based saucepan over low-medium heat. Add the onion and garlic and cook until soft and translucent.
Add the barley and cook for a few minutes stirring to coat the entire mixture.
Now add your vegetable stock and bring to a simmer. Cook for about 15 minutes, stirring occasionally, or until liquid is almost fully absorbed.
While the barley mixture is simmering, heat a small amount of olive oil in a seperate saucepan and cook the chicken until soft (but cooked through).
Add the pumpkin and sun-dried tomatoes to the barley mixture and cook for another 5 minutes.
Stir in the peas and spinach cooking for a final 2 minutes.
Stir through the chicken, sunflower seeds and cracked black pepper.
Sprinkle with parmesan cheese and add a garnish of fresh basil. Enjoy.
Inspiration:
Replace the chicken with tofu as a vegetarian option, using any assortment of veggies you like.
Refined Sugar Free 
About Author