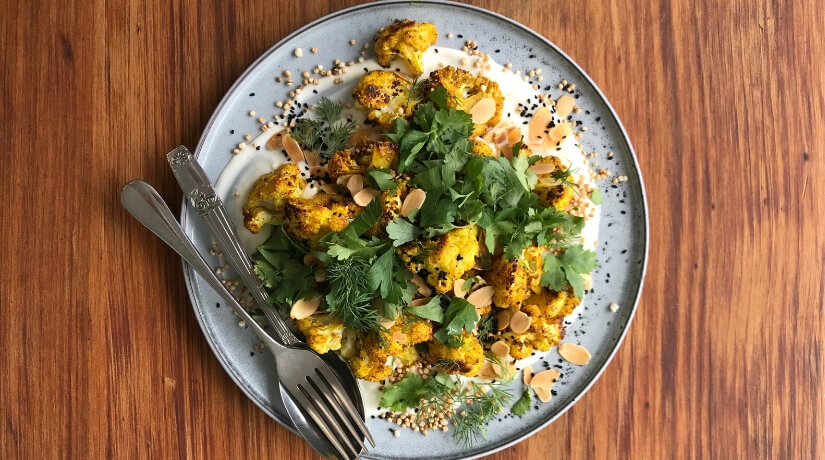 Spiced Baked Cauliflower with Puffed Quinoa
If you're looking for something a little different to add to the menu, this is an enjoyable recipe that can be used as either a main or side dish…. inspired by a recipe from the Gourmet Traveller Magazine.
Ingredients:
1 cauliflower, trimmed and broken into florets
1 tablespoon of olive oil
80 grams of flaked almonds
90 grams puffed quinoa
2 cups of fresh coriander (loosely chopped)
1 cup of flat-leaf parsley (loosely chopped)
1/2 cup of fresh dill (loosely chopped)
1 teaspoon toasted nigella seeds
Lime halves to serve (optional)
Spice Mixture
1 teaspoon fennel seeds
1 teaspoon coriander seeds
1 teaspoon cumin seeds
1/2 teaspoon black peppercorns
4 cloves
1 tablespoon ground turmeric
Yoghurt dressing
180 grams natural yoghurt of your choice (use coconut or soy yoghurt for a vegan meal)
1 garlic clove (crushed)
Finely grated rind of 1/2 lime plus juice to taste
Method:
Preheat your oven to 150C. Pour your almonds evenly onto a baking tray and roast until golden brown (about 5 – 6 minutes). Set aside to cool.
Turn the oven up to 250c in preparation.
Dry roast the whole spices in a small fry pan over high heat until fragrant. Cool and grind in a pestle and mortar or spice grinder. Add the ground turmeric and combine well.
Place the uncooked cauliflower in a bowl and add the oil and spice mixture tossing to coat well (wear gloves here as the turmeric stains). You may like to use a splash more olive oil to coat the cauliflower well.
Scatter the spiced cauliflower in an oven dish and bake until golden and tender, with a little charing starting to appear at the edges (takes around 15-20 minutes).
Now dry roast the puffed quinoa in a fry pan over medium heat until crispy (takes about 3-5 minutes).
For the yoghurt dressing, combine all the ingredients in a bowl and mix well.
To serve, spoon the yoghurt dressing onto a plate, top with cauliflower, scatter with toasted almonds, puffed quinoa, herbs and nigella seeds. Then season with lime to taste. Enjoy!
Gluten Free | Vegetarian 
About Author