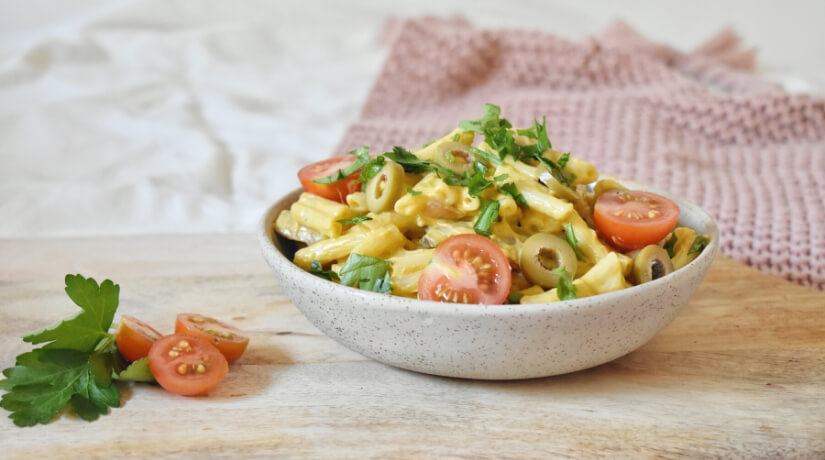 Vegan Mac n Cheese
This weeks Recipe of the Week is a classic recipe made vegan by Meg Phillips. Meg's Vegan Mac n Cheese features nutritional yeast flakes, cashew nuts and rice & quinoa pasta so it's also suitable for those on a gluten free diet. Enjoy!
Serving Size: Serves 4
Ingredients: 
3 cups of rice and quinoa penne
1 brown onion, finely chopped
4 mushrooms, sliced
1 clove of garlic, crushed
1/2 cup raw cashews, soaked in water for 20 minutes
500g pumpkin, boiled
2 tablespoons of tapioca flour
1/2 cup of savoury yeast flakes
salt and pepper to taste
Fresh parsley, cherry tomatoes and olives to serve, optional.
Method:
Fill a large saucepan with water and bring to the boil. Add the pasta and cook for 12 – 15 minutes until soft. Drain and set aside.
In a large frying pan, saute the onion and garlic until fragrant. Add the sliced mushrooms and cook, stirring for another 5 minutes.
Drain the water from the cashews and add to a blender with the cooked pumpkin, tapioca flour, nutritional yeast, salt, pepper and 1/2 cup a cup of water. Blend until smooth and creamy.
Pour this 'cheese' mixture into the frying pan with the onions, garlic and mushrooms and turn off the heat.
Add the cooked pasta to the frying pan and mix until all the pasta is coated in the 'cheese'.
Optionally serve with fresh parsley, cherry tomatoes and sliced olives. Enjoy!
Gluten Free | Vegan | Refined Sugar Free 
To see more from Meg you can visit her Instagram page here
About Author