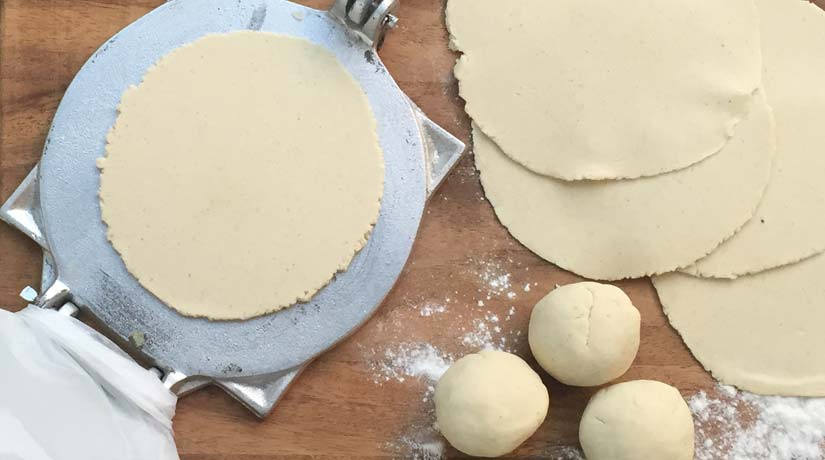 Traditional Mexican Corn Tortillas (Gluten Free)
Here is our foolproof recipe for making delicious homemade tortillas. Using our specialty masa lista flour, these will have you thinking you are in dining in the heart of Mexico. Masa lista flour is made from 100% corn flour and treated with lime to make it more alkaline and easier to digest. It is high in fibre and protein and is also gluten free, so suitable for those with sensitive digestion, gluten intolerance or Coeliac disease.
This is one of our favourite things to make when we come together, and once you get the knack, it is a super simple dinner option to accompany your favourite meat or vegetarian dishes with salad.
Serving Size: Makes 16 tortillas
Ingredients:
2 cups masa lista flour
1 cup water
Method:
Combine the flour, salt and water and mix thoroughly for around 2 minutes to form a soft dough.
If the dough feels too dry, add more water (one tablespoon at a time).
Divide the mix into 16 equal balls and cover with a damp cloth to keep moist.
Line a tortilla press with two sheets of plastic wrap and place each ball between the plastic then press until the tortilla measures 5 – 6 inches in diameter. Carefully peel off the plastic wrap.
Cook the tortilla's one at a time for 15-20 seconds on each side in a heavy-based saucepan or skillet on very high heat.
Once cooked cover with a cloth napkin to keep soft and warm ready to serve.
Inspiration:
Serve along with an array of Mexican style foods including chilli beans, guacamole and fresh salad or vegetables.
Gluten-Free | Dairy-Free | Vegan | Sugar-Free
About Author