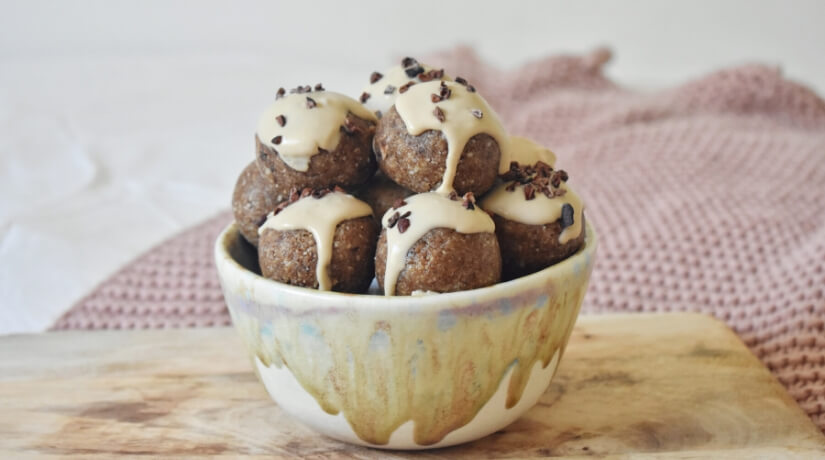 Cookies and Cream Bliss Balls
This weeks recipe of the week is from Meg Phillips. A delicious bliss ball with the flavours of cookies and cream. Enjoy.
For the bliss balls:
1 cup of dates, soaked in hot water
1 cup of cashews
1 cups of natural insecticide free almonds
1/2 cup desiccated coconut
a pinch of vanilla powder (or teaspoon of vanilla essence)
3 tablespoons Loving Earth chocolate buckinis
3 tablespoons almond butter
1 tablespoon coconut oil
1 tablespoon rice malt syrup
Method:
Blend the almonds, coconut and cashews in a high speed blender or food processor until a fine crumb forms.
Transfer to a bowl and add the buckinis, vanilla and almond butter.
Blend the dates with the coconut oil and rice malt syrup until smooth.
Add the date mixture to the crumb mixture and stir until a sticky dough forms.
Roll into balls and place in the freezer to set
For the Cream
1/2 cup of coconut cream
3 tablespoons cacao butter, melted
1 tablespoon coconut sugar
Method:
Mix all ingredients until well combined.
Place into the freezer for around 15 minutes stirring every 5 minutes.
Once the mixture is thick and creamy, dip the balls into the mixture and place back in the freezer to set. Optionally sprinkle the balls with cacao nibs.
Store in the fridge or freezer.
Note: These bliss balls will last months in the freezer
Gluten Free | Dairy Free | Refined Sugar Free | Delicious
About Author