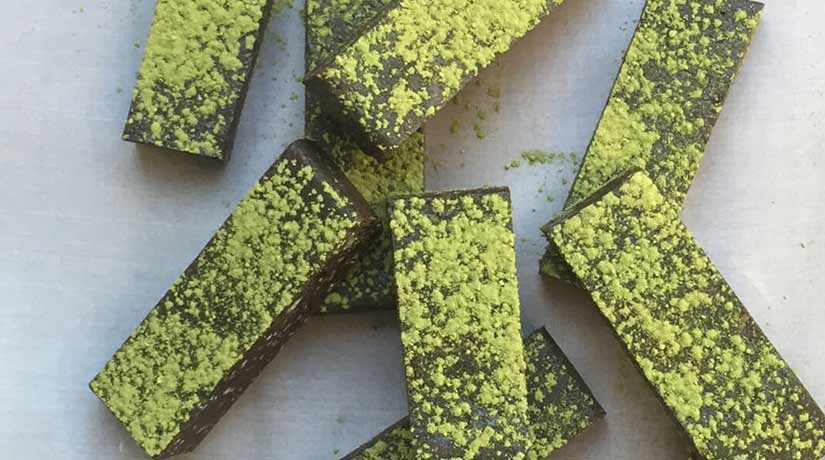 Raw Dark Chocolate Matcha Slice
We have been experimenting a little more with our organic green matcha powder and found that it goes a treat with dark chocolate. Here we share a super delicious slice recipe that is free from gluten, dairy and refined sugars. Great for chocolate lovers with allergies or who are looking to cut down on their sugar intake.

Serving size: 12 slices
Ingredients:
9 medjool dates (pitted)
1/3 cup dutch cocoa powder
2/3 cup almonds
2 tablespoons Green Matcha Tea powder
2 tablespoons Cacao Butter (or coconut butter alternative)
1/3 cup coconut flakes
3 tablespoons maple syrup
Method:
In a food processor pulse your almonds until they are almost ground (a bit of texture is good).
Add all your other ingredients to the processor and pulse until a dough is formed.
Once the dough is fully combined and stuck together, remove it from the processor and place on baking paper and press/roll into a rectangular shape about 1 inch thick.
Set on a flat surface (a baking tray is fine for this) in the fridge for at least 2 hours before cutting.
Lightly dust with green matcha powder.
Storage:
Keep a layer of baking paper between bars to keep from sticking and store in the refrigerator until eating.
Gluten Free | Dairy Free | Raw | Paleo | Vegan
About Author