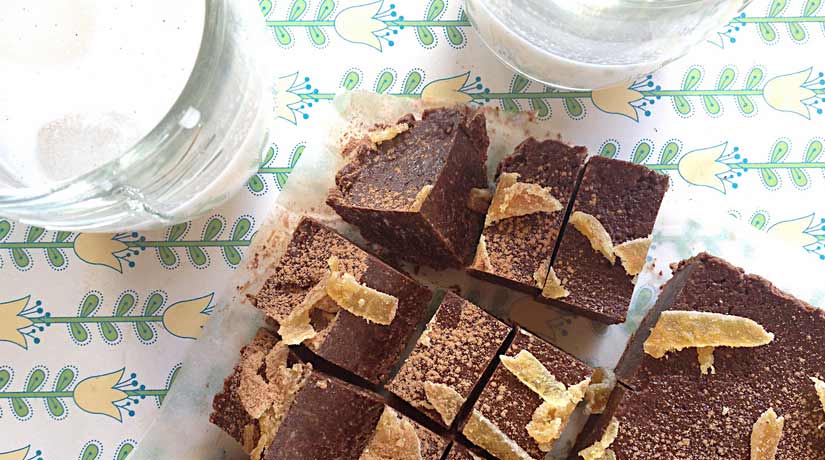 Spiced Ginger & Raw Cacao Fudge
We recently met with the beautiful Abigail O'Neill, local model and author of the book 'Model Chocolate'. Abigail has been a customer in our Lismore store since the very beginning and we have very much enjoyed her passion and enthusiasm each time she has walked through our doors. Abigail's dedication to cacao is unwavering and she has truly mastered the art of cooking with chocolate.
Here is one of her favourite cacao recipes that we felt was perfect for the festive season. A raw cacao fudge with a hint of ginger, vanilla & cinnamon spice, and a superfood boost of maca. Enjoy!
Serving Size: Makes 12 large biscuits
Ingredients:
2 cups plump Medjool dates (pitted and pressed down)
1 1/2 cups desiccated coconut
2/3 cup organic extra virgin cold pressed coconut oil
1/2 cup organic cacao powder
1/2 – 1 teaspoon cinnamon powder
1/2 teaspoon vanilla powder or 1 teaspoon vanilla essence
Pinch fine sea salt
1 tablespoon maca root powder, optional
1/2 cup naked ginger pieces
Extra naked ginger and cacao powder for decorating.
Method:
Using a powerful food processor, whiz everything together until processed and beginning to bind. It may take a couple of minutes for the dates and dry ingredients to combine into a fudgy mass.
Press the mixture firmly into a lined glass dish, sprinkle with raw cacao powder, top with extra pieces of naked ginger if desired and set to harden in the fridge for 30 minutes to an hour.
Cut into pieces and serve with some iced Peppermint & Licorice tea. Enjoy!
Inspiration:
Try swapping the vanilla essence for rose water and sprinkle with rose petals instead of naked ginger.
Raw | Gluten Free | Dairy Free | Refined Sugar Free | Vegan
To see more from Abigail visit her website here
About Author