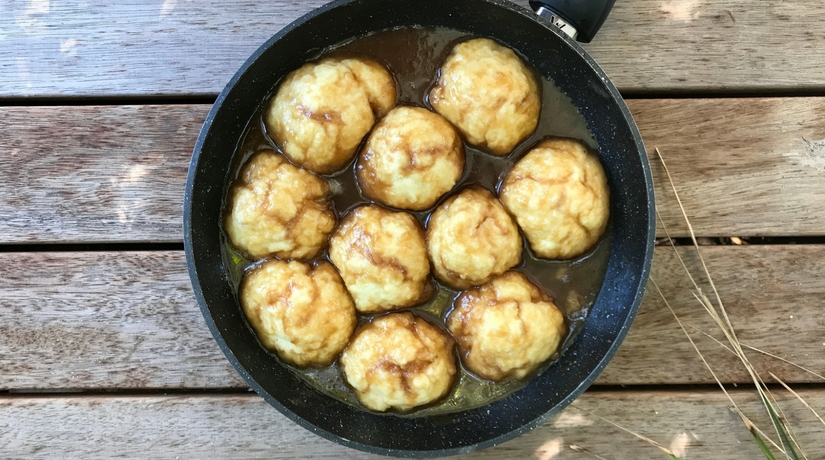 Caramel Dumplings
Busting out an old school recipe for delicious caramel dumplings. A great desert option that is easy to make and goes well with vanilla ice-cream any time of year.
Serving size: 4
Ingredients:
1 1/4 cups organic unbleached white self raising flour
pinch of himalayan salt
60 grams chilled butter (cubed)
1/2 cup milk
1/2 teaspoon organic vanilla essence
Caramel Sauce
1 1/2 cups of water
1 cup of brown sugar (firmly packed)
1 tablespoon butter
pinch of himalayan salt
Method:
In a medium size bowl combine the flour and salt, then use your fingertips to rub in the butter cubes until you have a mixture that resembles bread crumbs.
Stir in the milk and vanilla until you have a  smooth dough.
Roll a heaped teaspoon of mixture into round balls.
For the caramel – put the water, sugar, butter and salt in a medium to large base saucepan over high heat. Bring to the boil and then remove from heat.
Gently drop the balls of dough evenly into the hot caramel sauce.
Place the sauce pan back onto low heat and cook with the lid on for about 20 minutes or until the dumplings are cooked through.
Serve hot with vanilla ice-cream.
Vegetarian
About Author