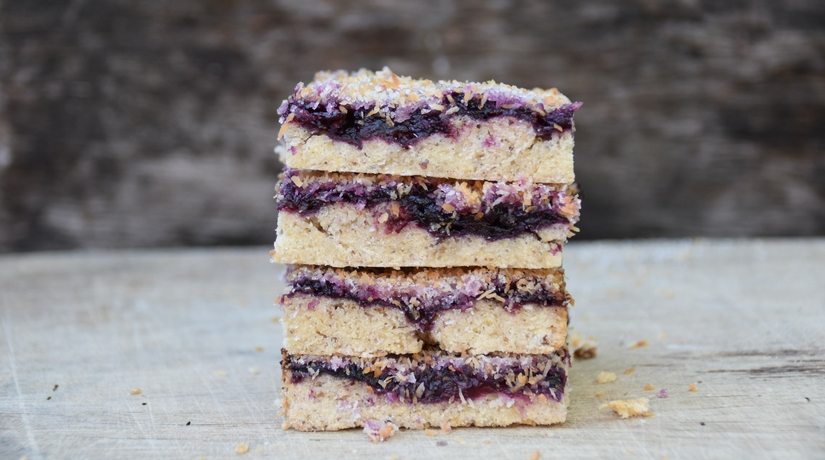 Vegan Berry Coconut Slice
This weeks recipe of the week is another delicious vegan recipe from contributor Morag Turnbull (@aveganfeed).  Using fresh berries to make your own homemade jam filling, and flaxseeds to add a little mucilage and fibre, the whole family will love this one.
Base
1 cup organic unbleached white self-raising flour
½ cup organic raw sugar
2 tablespoons vegan butter ie nuttelex
1 vegan egg – 1 tablespoon flaxseeds (linseed grain) + 2 tablespoons water
1 teaspoon vanilla extract or essence
Berry Layer
2 ¼ cups fresh or frozen berries*
2 tablespoons organic raw sugar
Topping
½ cup organic desiccated coconut
¼ cup organic raw sugar
Method:
In a bowl combine ½ cup raw sugar with vegan butter, mixing until pale and creamy. Add in flour, vegan egg and vanilla, mix until well combined (kneading with your hands may be needed).
Grease a 24 x 16 cm, or similar, slice tin and crumble mixture in, then press the mixture into base of tin.
To make the berry layer, combine the berries with raw sugar and 4 tablespoons water in a saucepan on medium heat. Cook until the berries have reduced and the mixture is thick, about ½ an hour. Remove from heat and leave to cool.
Top the base with the berry mixture, spreading evenly.
To make the topping, combine coconut and sugar in a bowl.
Sprinkle over the berry layer.
Bake in a pre-heated oven at 180˚C for 20 minutes.
Inspiration:
Instead of cooking berries and sugar, jam could be used, ½ to 1 cup would be suitable.
Dairy Free | Vegan 
Visit Morag's instagram page for more vegan recipe inspiration
About Author