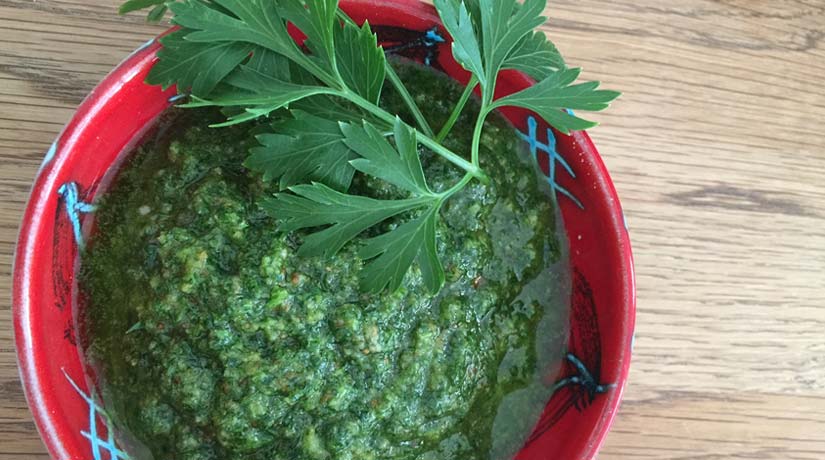 Lemon Parsley Pesto
Over the coming months Affordable Wholefoods will be teaming up with Pooi Keun, owner of L'Abruzzese Australia. Pooi will be sharing a selection of her favourite Italian pasta recipes and side dishes. Affordable Wholefoods stocks 4 quality pastas from L'Abruzzese which we will be show casing in the recipes to come. To begin, here is a simple pesto recipe from Pooi that can be used with any pasta of your choice.
Serving Size: Serves 4-6
Ingredients:
50 grams Parsley
1 garlic clove, peeled
50 grams breadcrumbs (can use Gluten Free if preferred)
25 ml lemon juice
150 ml extra virgin olive oil
1 teaspoon lemon zest
A pinch of salt
Method:
1. Whizz all ingredients in a food processor or pound in a mortar and pestle. Adjust seasoning to taste.
2. Cook pasta (put a cup of cooking water aside), drain and mix with pesto. Add some reserved cooking water, a tablespoon at a time until it loosens the sauce, if needed. If you need to keep the sauce just cover with a layer of extra virgin olive oil and this should keep for up to 3 weeks in the fridge.
Inspiration:
You can use this pesto to add to any pasta of your choice. It also serves well as a condiment alongside roasted or steamed vegetables, fish, on crackers, toasted sandwiches or as a dip with raw vegetable sticks.
Dairy Free | Gluten Free Option | Sugar Free | Vegetarian | Vegan
For a full pasta recipe using this pesto click here
About Author