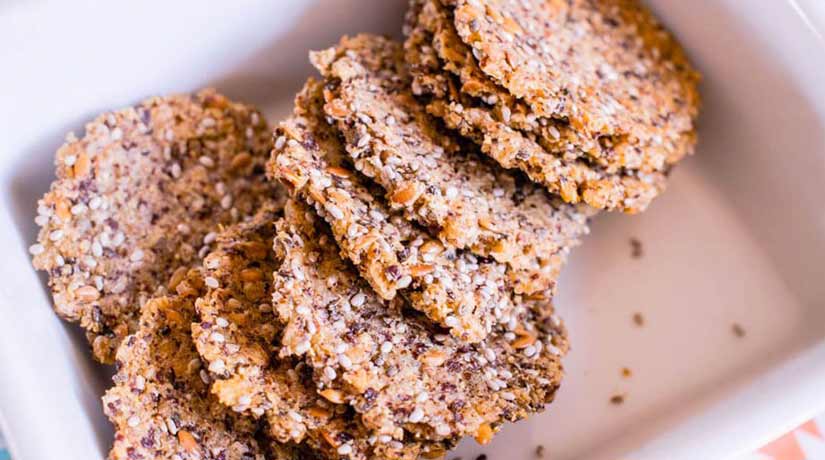 Gluten Free Quinoa & Rice Crackers (with Linseed)
Welcome to the first of many guest food bloggers to share yummy wholefood recipes on our site. This one is from Kylie Archer of Kidgredients. Kylie is a food blogger with a passion for creating inspiring & healthy school lunches and family foods. This one was inspired by ingredients from our store.
"I have been using crackers in our lunches for a while and I find that they are a very welcome addition, especially when they have some cheese with them. My daugher also loves quince paste, so the combination of quince paste, crackers and cheese is a favourite. These Quinoa & Rice crackers are sure to please, whether they are in the lunchbox or on a platter.
We've been buying Mary's Gone Crackers, by they are quite expensive and I have tried to make my own on a number of occasions. Now I can say that I've finally cracked it (couldn't help the pun), with this recipe that packs yummy seeds rice and quinoa as well as tahini into a delicious cracker that isn't just good for you, it's also dairy and gluten free. Not to mention nut free so school friendly across the board.
These were accepted immediately by my kids, they both started gobbling straight away and my daughter has taken some more of them today in her lunchbox. These are a little fiddly to make, but so worth it in the end. You will need a food processor to make them and I recommend a silicone baking tray liner or baking paper for the tray. The key to making the dough easily is to make sure the rice and quinoa go into the food processor when hot. Otherwise I found it didn't turn doughy enough".
So here it is…..
Serving Size: Makes 60 crackers
Ingredients:
3/4 cup brown rice
3/4 cup quinoa
3 cups water
1 tablespoon tahini
1/2 cup chia seeds
1/4 cup linseeds
Method:
Preheat your oven to 170'C.
Cook the rice and quinoa together in a rice cooker or on the stove top until the rice is soft. (3 cups of water are needed for this in my rice cooker so adjust accordingly for a stove top).
Transfer the cooked rice and quinoa to a food processor along with the tahini and process until a thick dough is formed.
Stir through the chia and linseed.
Using silicone baking sheets or baking paper, roll out the dough until 3mm thick.
Cut the size crackers you want (I did small crimpled circles).
Place on a lined baking tray and bake at 170′ degrees for 25 minutes or until starting to turn golden at the edges.
Cool on the tray then transfer to an airtight container when completely cool.
Gluten Free | Dairy Free | Vegetarian | Vegan | Paleo | Delicious
Save
Save
About Author