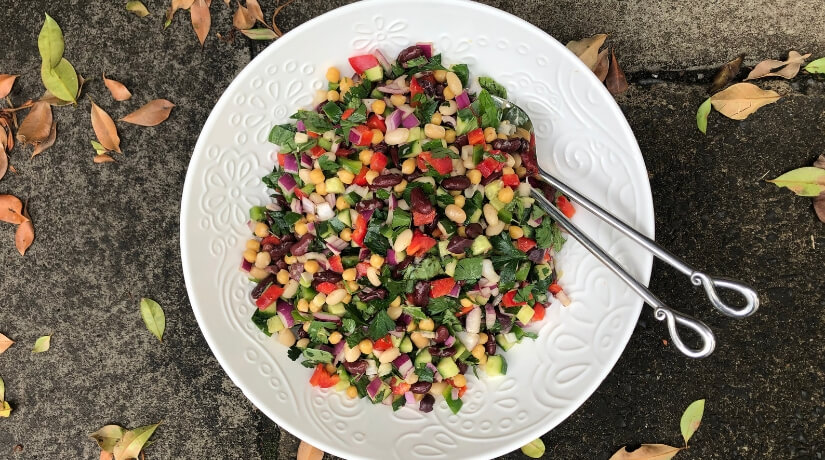 Mediterranean Three Bean Salad
This weeks recipe of the week is Mediterranean inspired for spring and summer. Made with kidney beans, cannellini beans and chickpeas along with fresh capsicum, cucumber, red onion, leafy herbs and olives, topped with a garlic dijon dressing. Super fresh and delicious, its perfect for the warmer weather.
Ingredients:
1 cup dry kidney beans
1 cup dry cannellini beans
1 cup dry chickpeas
1 small green capsicum, diced
1 small red capsicum, diced
1 large Lebanese cucumber, chopped
1/2 small red onion, diced or 4 spring onions
1/4 cup chopped kalamata olives
1 cup fresh flat leaf parsley, chopped
10-15 fresh mint leaves, chopped
10-15 fresh basil leaves, chopped
Garlic Dijon Dressing
1-2 cloves of garlic, minced
1/2 tablespoon dijon mustard
2 tablespoons of lemon juice
1/4 cup extra virgin olive oil
Salt & pepper to season
Method:
Soak the beans separately overnight and then cook the kidney beans in a saucepan on their own to avoid colour leaching, and the chickpeas and cannellini beans together until soft (about 40 minutes). Allow to cool.
In a large mixing bowl combine the beans, capsicum, onion, cucumber, olives and fresh herbs and mix gently using a wooden spoon to avoid squashing the beans.
In a small bowl add the ingredients for the garlic dressing and whisk until well combined.
Add the dressing to the salad and toss gently once you are ready to serve. Enjoy.
Gluten Free | Dairy Free | Refined Sugar Free | Vegan
About Author