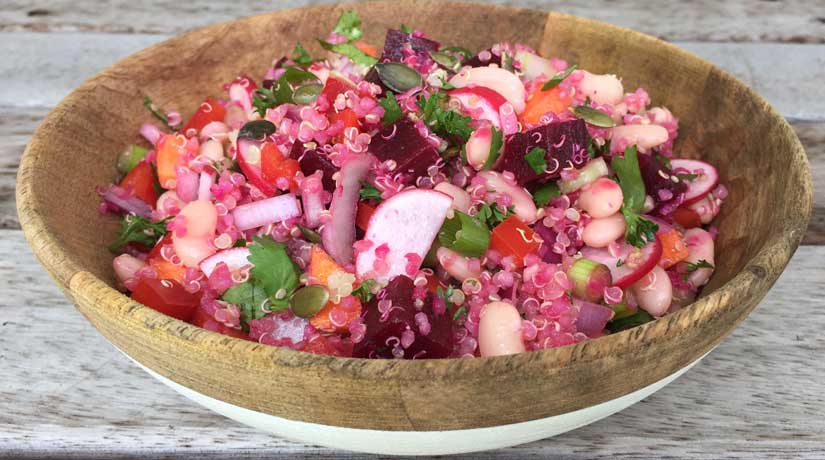 Quinoa & White Bean Salad
We made this quinoa salad recently after exploring Rena Patten's book 'Cooking with Quinoa'. The recipe is delicious, the only difference, we added some lightly roasted pepitas and sunflower seeds (of course).
A gorgeous looking salad with the colourful vibrancy of beetroot, red capsicum, carrot and fresh parsley, and the richness of quinoa and white beans. This one is a winner for sure. Oh, and gluten free to boot so it covers all bases when entertaining.
Serving Size: Serves 4
Ingredients:
3/4 cup white quinoa, rinsed and drained
1 1/2 cups water
1 1/2 cups cooked beetroot, diced
2 celery stalks, finely diced
1/2 red capsicum, diced
1 medium carrot, finely diced
1 large red onion, finely chopped
4 shallots finely sliced
2-3 radishes, finely sliced
1 cup of cannellini beans, cooked (or other white beans)
1 generous cup of roughly chopped parsley
2 tablespoons lightly toasted pepitas and sunflower seeds
Dressing
1 clove garlic
Salt and freshly ground black pepper
2 tablespoons red wine vinegar
5 tablespoons extra virgin olive oil
Method:
Place the quinoa in a small saucepan with the water and bring to the boil, then reduce heat, cover and simmer for 10 minutes until all water is absorbed.
Remove quinoa from the heat and cool completely.
In a large bowl mix the cooled quinoa with all the other ingredients and mix.
For the dressing, place the garlic, vinegar, olive oil and seasoning in a mortar and pestle (or alternatively a mini processor) and mix well.
Adjust the quantities to taste and then pour the dressing over the salad just before serving.
Gluten Free | Dairy Free | Vegan | Vegetarian | Delicious
About Author