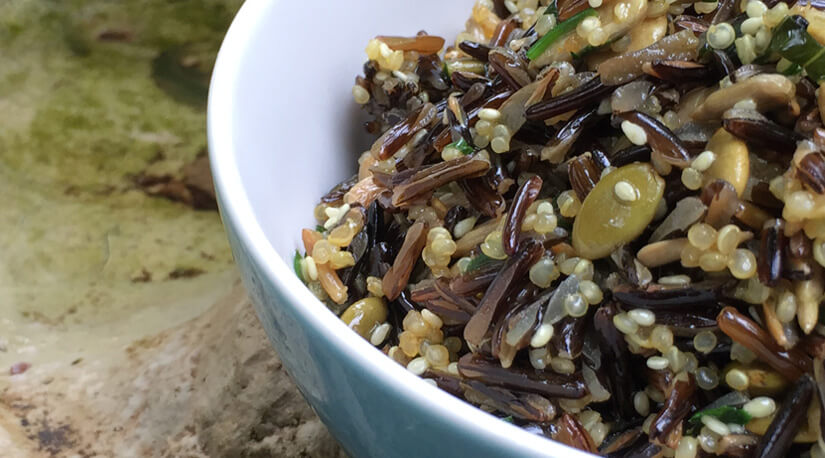 Wild Rice & Quinoa Salad
This is a great salad to have year round, warm or cold. The combination of wild rice, quinoa and mixed seeds creates a delicious flavour and texture, whilst the parsley and lemon juice give the final lift. A must have gluten free salad recipe to add to your repertoire. 
Ingredients:
1/2 cup wild rice
1/4 cup quinoa
1/3 cup mixed pepitas, sunflowers and sesames
1/2 cup chopped fresh curly parsley
1 tablespoon olive oil
1 teaspoon tamari
Pinch of turmeric and cumin each
Pinch of black pepper
Lemon juice to season
Method:
In a saucepan, bring to the boil the wild rice in 1 3/4 cup water and then simmer for 40-45 minutes (until all water is absorbed).
Rinse the quinoa and then cook on the stove in 1/2 cup of water bringing to the boil and then simmering for approximately 10 minutes.
Toast the seed mix in the oven or on the stove top (however you prefer) until golden brown.
In a large bowl add the olive oil, tamari, turmeric, cumin and black pepper and stir. Then add the cooked and slightly cooled rice and quinoa.
Lastly add the seeds and parsley and mix well.
Serve with a squeeze of lemon juice and additional tamari seasoning if needed.
Inspiration:
Serve alongside a selection of your favourite warm roasted vegetables such as sweet potato (kumera), pumpkin, beetroot, or yellow winter squash.
Gluten Free | Dairy Free | Vegan | Vegetarian | Sugar Free
About Author